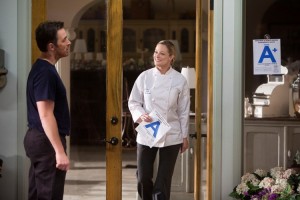 First of all, if you are a fan of good Television Series, you are getting some Dr Who with James Patrick Stuart and some  Prison Break with Rockmond Dunbar. This means, sit down and watch A Taste of Romance on Hallmark, since it´s good family television, and enjoyable for all at home.
The first couple of scenes are showing the contrasts between high cuisine restauranteur Teri Polo, and messy James Patrick Stuart.
What is A Taste of Romance About? Plot Synopsis
When a handsome former firefighter and single dad opens up  a  barbecue  restaurant,  he  ruffles  the  feathers  of  the pretty but uppity owner of a classy French restaurant next door.    As  the  two  grow  heated  with  competition,  a romance between them warms up as well, and it takes the man's  precocious  young  daughter  and  a  restaurant reviewer's mishap to bring them closer than ever.
A Taste of Romance Best Moments to lay the themes – Non Spoilers
In the first face to face encounter they only exchange a few words, but when Sarah goes to ask Gill to lower the volume of the music, it starts to show the "we hated at first sight" theme. That theme continues when they start making pranks to each other.
Gill: "Well, actually is not that bad, this song was Top 40 1986".
After the first heated argument, Patsy asks Sarah if Gill´s cute, establishing the second element. After all, it´s a romantic comedy.
Gill: "We are not dressed for that place… come on, I´ll buy you an ice cream".
And there you have the we are from different worlds element.
He is a wiodow and has a daughter who becomes friends with Sarah. So there´s the sadness / sweetness element.
Hannah: "If you do that inside, I´ll tell everybody you kidnapped me".
Patsy: "He´s cute"
Sarah: "No, he´s a barbarian. He called my Beef Bourgouignon, Beef Stew"
Patsy: "Noooo"
So there´s a little humor too.
Gill plays a lot of eighties music in his place, so,that´s another thing to like about A Taste of Romance.
In conclusion, it has all the elements of a good romantic movie for all the family to enjoy.
Will you watch A Taste of Romance Saturday January 14 8/7C on Hallmark Channel? Let me know in the comments section. Also, remember to follow me on Twitter for more Hallmark Channel films scoop.
Comments
comments