We are reviewing the Complete List of Academy Awards Oscar winners of 2010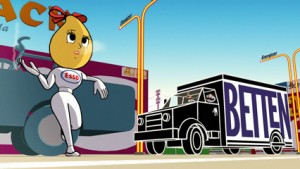 It´s Short Oscar Times! And first of all, it´s Best Animated Short Film.
Oscar 2010 Best animated short film
*
"French Roast"
A Pumpkin Factory/Bibo Films Production    Fabrice O. Joubert
*
"Granny O'Grimm's Sleeping Beauty" (Brown Bag Films)
A Brown Bag Films Production    Nicky Phelan and Darragh O'Connell
*
"The Lady and the Reaper (La Dama y la Muerte)"
A Kandor Graphics and Green Moon Production    Javier Recio Gracia
*
"Logorama" (Autour de Minuit)
An Autour de Minuit Production    Nicolas Schmerkin
*
"A Matter of Loaf and Death" (Aardman Animations)
An Aardman Animations Production    Nick Park
And the winner is Logorama:
Are you happy that Logorama won the Oscar for Best Animated Short Film?
Comments
comments