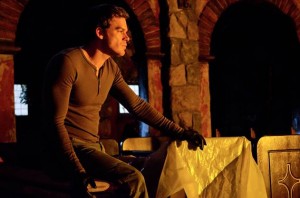 More information to fill the renewed shows on 2011 and all the cancelled shows on 2011 lists.
If you are following my coverage of Dexter, like Sins Of Omission preview, or Nebraska´s review, or the rest, or even if you don´t follow my coverage but just watch the show, you´ll agree with me, Dexter is getting even better every time.
So the only thing that was keeping Showtime from renewing Dexter was locking up Michael C Hall to a new contract after his expires at the end of season six. It appears to be a done deal, even if the network didn´t specify the terms of the agreement, since Showtime announced the renewal of Dexter for season seven and eight.
SHOWTIME has ordered two more seasons of its award-winning, top-rated drama series DEXTER, starring Golden Globe® award-winning actor Michael C. Hall, it was announced today by David Nevins, President of Entertainment, Showtime Networks Inc.  On the heels of Hall and SHOWTIME closing a new, two season deal for Hall to return to the series, production will begin on season seven in 2012 in Los Angeles.  Seasons seven and eight will consist of 12 episodes each.
The Emmy®-nominated DEXTER opened its sixth season in October and continues to earn impressive ratings, most recently delivering its fifth consecutive week of growth. Season-to-date, the series is averaging 5.12 million weekly viewers on all platforms (including On Demand, replays and DVR), making it the highest rated season yet.  Season six of DEXTER is executive produced by John Goldwyn, Sara Colleton, Scott Buck, Manny Coto and Michael C. Hall.
"DEXTER's enormous success is a real tribute to the great achievements of its cast, producers, and the powerhouse performance of Michael C. Hall," said Nevins.  "The series is bigger than it's ever been in its sixth season, both in terms of audience and its impact on the cultural landscape.  Together with Michael, the creative team on the show has a very clear sense of where they intend to take the show over the next two seasons and, as a huge fan, I'm excited to watch the story of Dexter Morgan play out."
Michael C. Hall added, "On behalf of the entire DEXTER family, we relish the invitation to delve ever deeper into Dexter's world."
One of the most acclaimed shows on television, DEXTER stars Hall, who has earned multiple Emmy nominations as well as a SAG award for his role as a complicated and conflicted blood-spatter expert for the Miami police department who moonlights as a serial killer.  The show has received multiple Emmy and Golden Globe nominations for best television drama series, as well as a prestigious Peabody Award in 2008, and was twice named one of AFI's Top Ten television series.  The series also stars Jennifer Carpenter, Desmond Harrington, C.S. Lee, Lauren Vélez, David Zayas, and James Remar.
What do you think? Are you happy Showtime renewed Dexter for two more seasons? Let me know in the comments section.
Also, remember to follow me on Twitter for more cancelled and renewed as Dexter shows scoop.
Comments
comments