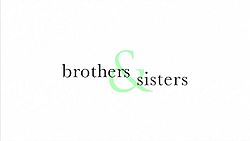 We are reviewing all the cancelled shows and renewed shows of the season.
ABC has already renewed Brothers & Sisters for a fourth season. So, everything´s good for Brothers & Sisters!
Brothers & Sisters is an American dramatic television series which centers on the upper class Walker family and their lives in Los Angeles, California.
It premiered on ABC on September 24, 2006 after Desperate Housewives and airs Sundays. The acting ensemble includes Sally Field, Rachel Griffiths, Calista Flockhart, Ron Rifkin, Rob Lowe, Tom Skerritt, Patricia Wettig and Matthew Rhys. Sally Field won the 2007 Emmy for Outstanding Lead Actress in a Drama Series for her role as Nora Walker. Rachel Griffiths was also nominated in the Outstanding Supporting Actress in a Drama Series category.
What is Brothers & Sisters About? – Plot
arah, Tommy, and Saul, who are the most involved people with the family business, learn that William embezzled the company's funds. The business revelation also reveales two major revelations on the personal front: William had a mistress, Holly Harper (Patricia Wettig) whom he kept for decades, and the couple were believed to have had a child, Rebecca (Emily VanCamp).
Most of the season focuses on Rebecca and her integration into the Walker family. Her mother Holly also becomes involved as she goes into business with Tommy to open 'Walker Landing,' a vineyard.
At the same time Sarah's marriage hits the rocks and is made worse after her husband, Joe, kisses Rebecca. Tommy discovers he is sterile, which leads to he and his wife, Julia, turning to his brothers for support as possible surrogates. Julia gives birth to premature twins William and Elizabeth, but tragedy strikes and only Elizabeth survives.
Kevin has a short-term relationship with Scotty before beginning a secret fling with Chad Barry, a TV star who cannot admit to his sexuality. Tensions rise between him and his sister Kitty when she takes a job with Senator Robert McCallister (Rob Lowe) as he does not support gay marriage. Kevin is later introduced to Jason, Robert's gay brother, and they begin a relationship.
Kitty moves back in with her mother, causing unresolved issues between the two of them to come to the surface. She also begins a new job as co-host on a politics show 'Red White and Blue' and begins a relationship with fellow host, Warren. When she interviews Senator Robert McCallister, he offers her a job on his communications staff. After fighting it for months, they finally acknowledge their feelings for each other and become engaged at the end of the season.
Justin struggles with his drug addiction and his family's lack of faith in him; however, as the season progresses, he decides to stay clean and enters rehab. He also has an on again/off again relationship with an old high school friend and short time boss Tyler. He, out of all the brothers and sisters, spends more time with Rebecca and becomes closest to her. Later in the season he receives a letter from the army ordering him to return to active duty, and asks his brother Kevin to help him out of it.
Are you happy that Brothers & Sisters gets renewed for a new season by ABC?
Comments
comments