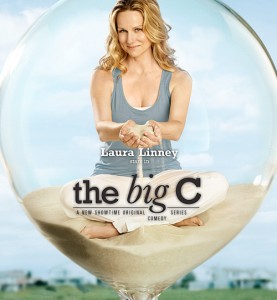 The good new Showitme Original show dark comedy about cancer "The BIg C" is running its rookie season. The Big C is casting for guest stars, day players, and extras.
Principal Actor Casting for The Big C:
Roles are all filled, and responsibility for this Casting Call for The Big C belongs to Tucker Meyerson Casting; Pc/o Apostle Pictures 568 Broadway, Suite 301. New York, NY 10012.
Extras Casting, Guest Stars Casting for The Big C:
This one you can submit yourself and audition for The Big C season, by contacting Ross Meyerson or Julie Tucker at the same company.
Series Creator of The Big C:
Darlene Hunt.
Principal Cast starring in The Big C:
Laura Linney, Oliver Platt, Gabriel Basso, John Benjamin Hickey, Phyllis Sommerville, Gabourey Sidibe and many more.
What is The Big C About? – Plot
The Big C is a Showtime original series created by Darlene Hunt and starring Laura Linney.
Linney plays a reserved suburban wife and mother whose recent cancer diagnosis forces her to shake up her life and find hope, humor and the light side of a dark situation, while managing her immature but well-meaning husband, played by Oliver Platt. Recurring guest star Gabourey Sidibe will play a precocious student. The Wire and Luther star Idris Elba will appear in at least four episodes as a love interest for Linney. Brian Cox will appear in the show as Linney's father. Cynthia Nixon has a recurring role playing a friend of Laura Linney's character. Reid Scott will play Linney's character's oncologist, Dr. Todd.
Are you going to take your chances in this casting call and audition for The Big C season? Let me know how it goes on the comments.
Also, remember to follow me on Twitter for more Casting calls and open auditions info.
Comments
comments