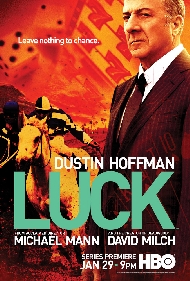 HBO´s new show, a gem that they are throwing our way now premiered last Sunday paired to Boardwalk Empire season finale, but the show will start its real run on January 29th.
What is Luck from HBO About? Plot Synopsis
Luck, a behind-the-track look at the world of horse racing and gambling's denizens… owners, trainers, jockeys and gamblers.
Luck is a provocative  look  at  horse  racing  –  the  owners,  gamblers,  jockeys  and  diverse  gaming industry  players.
This series is going to be a huge one for HBO – it's from acclaimed director Michael Mann and "Deadwood" creator David Milch, and starring Oscar winner Dustin Hoffman and Oscar nominee Nick Nolte.
The cast for the pilot stars Dustin Hoffman, Dennis Farina, John Ortiz, Kevin Dunn, Richard Kind, Jason Gedrick, Ritchie Coster, Ian Hart, Tom Payne, Kerry Condon, Gary Stevens and Nick Nolte.  Jill Hennessy guest stars.
Watch Luck Trailer Video
What do you think? Will you watch Luck on HBO? Let me know in the comments section. Also, remember to follow me on Twitter for more Luck spoilers and scoop.
Comments
comments