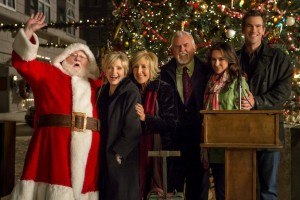 We are getting closer and closer to the Holidays, so it´s time to start reviewing what will happen on TV for Christmas. In this case, what Hallmark is bringing. In this case, a new film called Matchmaker Santa.
A big cast ensemble on this movie starring  Lacey Chabert, Florence Henderson, John Ratzenberger, Adam Mayfield, Donovan Scott, Thad Luckinbill: Matchmaker Santa to premiere Saturday November 17 at 8/7 C PM on Hallmark Channel.
What is Matchmaker Santa about? Plot Synopsis
Santa Claus can work in mysterious ways. Not only does he deliver toys to all the world's children on Christmas Eve, which keeps him busy enough; he also sometimes needs to play cupid to make sure that certain romances happen. We learn all of this and plenty more in "Matchmaker Santa," a Hallmark Channel Original Movie World Premiere on Saturday, November 17 (8p.m. ET/PT, 7C). It stars Lacey Chabert ("Mean Girls," "Party of Five") as a bakery owner named Melanie Hogan, who is using her lovebird parents as her role models in crafting her own romantic tale for the holidays. Things seem to be moving along just fine on the Prince Charming front as Melanie is dating a very hunky CEO named Justin (Thad Luckinbill, "Keeping Up With the Randalls").  And engagement appears to be just around the corner when Justin invites her to stay at his opulent upstate lake house and meet his mom. What Melanie doesn't know is that Justin is merely using her as arm candy to impress his corporate cohorts. Meanwhile, Justin's assistant Dean (Adam Mayfield, "All My Children") harbors a secret crush on Melanie, and that's when magic intervenes in the form of a mysterious mall Santa (Donovan Scott, "Police Academy") who looks so much like the real St. Nick that, well, maybe he is. And he's determined to make Melanie's lifelong Christmas wish come true. We're rooting for the right guy to win this lady's heart in "Matchmaker Santa." We're also treated to terrific supporting work from TV legends John Ratzenberger ("Cheers") and Florence Henderson ("The Brady Bunch"), who lend enchantment to a film that verifies something we all have long known: love is way better at holiday time.
What do you think? Are you going to watch Matchmaker Santa on Hallmark? Let me know in the comments section. Also, follow me on Twitter for more Christmas programming scoop.
Comments
comments