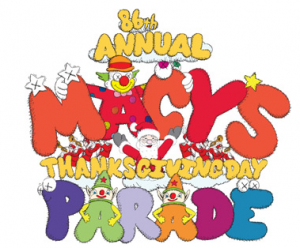 We are doing our Full and Updatable Holidays and Christmas Programming Guide, and now it´s time to add a classic: Macy´s Thanksgiving Day Parade.
America's favorite holiday tradition, the 86th Annual Macy's Thanksgiving Day Parade®, returns to dazzle and enchant millions nationwide on Thursday, November 22 from 9 a.m.to 12 noon on NBC in all time zones. "The Macy's Thanksgiving Day Parade" will take to the streets of New York City with a cornucopia of whimsical treats for the whole family. With more than 3.5 million spectators watching the revelry live — and more than 50 million viewers tuned in to the magic nationwide — the 86th edition of the world-famous spectacle promises to be the nation's largest Thanksgiving Day celebration.
The Macy's Thanksgiving Day Parade has been the nation's star attraction for decades, and this year, the "Today" show's Matt Lauer, Savannah Guthrie and Al Roker will host and treat viewers to Thanksgiving's best entertainment special. Stars joining the festivities this year include Kareem Abdul-Jabbar; Trace Adkins; Big Apple Circus; Chica and the gang from Sprout; Colbie Caillat; Rachel Crow; Thirza Defoe; Jimmy Fallon & The Roots; Flo Rida; Whoopi Goldberg; Chris Isaak; Carly Rae Jepsen; Karmin; Kidz Bop; Christian Laettner; Sandra Lee; Mannheim Steamroller; Jennette McCurdy; Don McLean; Megan & Liz; Olivia Culpo, Miss USA 2012; the Muppets and cast of Sesame Street; Neon Trees; Power Rangers Megaforce; Cody Simpson; the U.S. Olympic gold medalists — Gabby Douglas, McKayla Maroney, Aly Raisman, Kyla Ross and Jordyn Wieber; The Wanted; and Food Network's Iron Chef Geoffrey Zakarian. There will be performances from Broadway's best musicals, including "Annie," "Bring It On," Rodgers + Hammerstein's "Cinderella," "Elf" and "Nice Work If You Can Get It." In addition, the world-famous Radio City Rockettes® will join the presentation to help kick-off the holidays.
"Since the first broadcast in 1948, the Macy's Thanksgiving Day Parade has become a tradition for families across America," said Doug Vaughan, Senior Vice President, Special Programs and Late Night, NBC Entertainment. "This year we are thrilled to once again celebrate with some of the nation's best performers as we kick off the holiday season."
Featuring signature elements, the Macy's Parade has marked the start of the holiday season, since its inception in 1924. This year, the lineup of wonder unfolds with 16 giant character balloons; 40 novelty/ornament balloons, balloonicles, balloonheads and trycaloons; 28 floats; 1,600 cheerleaders and dancers; 900 clowns; 11 marching bands; a host of celebrity performers and the one-and-only Santa Claus.
"The 86th Annual Macy's Thanksgiving Day Parade will again make history as it debuts three impressive giant balloons, six over-the-top floats, an amazing array of talent and the most remarkable high school and college marching bands in the nation," said Amy Kule, executive producer of Macy's Thanksgiving Day Parade. She added, "This incredible cavalcade will make its way down 6th Avenue, a path that marks only the seventh time the parade has changed its route. And, as it has during turbulent times in our history, we hope the Macy's Parade serves as a beacon of hope for all who tune in and gather with friends and family to give thanks this season, as they continue to heal from the devastating aftermath of super-storm Sandy. During its 86th year, the parade continues to create new memories and magical moments for more than three million live spectators and over 50 million who tune in across the country."
The parade's signature giant character balloons are one of the procession's most famous elements, each year drawing millions of cheers from spectators young and old. Joining the line-up this year is a returning favorite with a brand new design and two never-before-seen characters set to take flight this Thanksgiving. On deck for a Turkey Day lift this year is Santa's favorite scout elf from the new beloved children's Christmas tradition, The Elf on the Shelf®, the lovable Hello Kitty© aboard her fabulous airplane, and the smurferrific Papa Smurf.
Also making its parade debut as the latest member of the parade's Blue Sky Gallery series is Companion by KAWS. The series, which debuted in 2005, invites world-renowned artists to create high-flying works of art for the procession. Said to be the artist's alter-ego, Companion is a shy character who prefers to cover his eyes from the millions of spectators set to gaze at him as he flies down the route. In celebration of this unique partnership, Brian Donnelly, better known by the moniker KAWS, also created the promotional artwork for this year's parade, which features his unique style and sensibility. Previous works to have joined this elite group include balloon designs by Tom Otterness, Jeff Koons, Keith Haring, Takashi Murakami and Tim Burton.
Rounding out the ballooning lineup are returning favorites including Buzz Lightyear, Charlie Brown, Diary of A Wimpy Kid, Julius, Kermit the Frog, Kung Fu Panda™, Pikachu, Pillsbury Doughboy®, Ronald McDonald®, Sailor Mickey, Sonic the Hedgehog™, Spider-Man® and SpongeBob SquarePants.
Setting the stage for wondrous adventures are the parade's signature floats. Taking spectators through magical experiences, the floats set the scene for amazing performances. Joining the lineup this year are six new landscapes, including the imaginative Daytime, Play Time, Night Time Too…; the wonderland of Goldfish® on Parade; the beats lifestyle magic of Music Is Our Life; the hoops appreciation on board the 75 Years of March Madness®; the home based goodies of Stirrin' Up Sweet Sensations; and the ninja precision of the Teenage Mutant Ninja Turtles.
The returning float roster includes 1-2-3 Sesame Street, Big Apple, Bridge To The Future, Dora's Christmas Carol Adventure, Elves Raise The Roof, Gift of Freedom, Home Baked Goodness, International Cele-bear-ation Clock Tower, Jolly Polly Pirate Ship, Marion-Carole Showboat, Mouth Rushmore's American Pride, On The Roll Again, Pep Rally, Santa's Sleigh, The Smurfs, Snoopy's Doghouse, Tom Turkey, True Spirit of Thanksgiving, Uncle Sam's Top Hat, Winter Wonderland In Central Park, Woodland Family Gathering and Zhu-niverse.
Providing the beat and the razzle-dazzle are the nation's and the world's best marching bands and performance groups. Together, they add the pomp and circumstance to the holiday revelry, delighting spectators along the route and providing television viewers with holiday showstoppers. Eleven marching bands will take up the call of the baton and march into history as the 86th Macy's Parade's musical heart. Joining the Thanksgiving Day revelry are Banda Musical Delfines (Veracruz, Mexico); Father Ryan High School (Nashville, TN); Kenton Ridge High School (Springfield, OH); Macy's Great American Marching Band (United States); Niceville High School (Niceville, FL); North Carolina A&T State University (Greensboro, NC); Oak Ridge High School (Conroe, TX); Saratoga High School (Saratoga, CA); United States Air Force Band & Honor Guard (Washington, DC); University of Louisiana Lafayette (Lafayette, LA); and the Wyoming All-State Marching Band (Wyoming). The purveyors of sometimes wacky but always fun entertainment include the nation's best performance groups. Taking a unique place in the line-up this year are the Fred Hill Briefcase Drill Team (Plymouth, MI); Heartland Hoedowners (Elkhorn, NE); The King Charles Unicycle Troupe (Bronx, NY); Spangles Dance Company (New York, NY); Spirit of America Dance (United States); The Tap Dancing Christmas Trees (Oakland, CA); Stagedoor Manor (United States); Texas State University Strutters (San Marcos, TX); and the Varsity Spirit Cheer (United States).
The 86th Annual Macy's Thanksgiving Day Parade will step off at 77th Street and Central Park West. The procession will travel down to Columbus Circle, turn onto Central Park South and march down a new path via 6th Avenue/Avenue of the Americas to 34th Street. At 34th Street, the parade will make its final turn west and end at 7th Avenue in front of Macy's Herald Square.
Will you watch Macy´s Thanksgiving Day Parade on November 22nd? Let me know. Also, follow me on Twitter for more Holidays Programming scoop.
Comments
comments