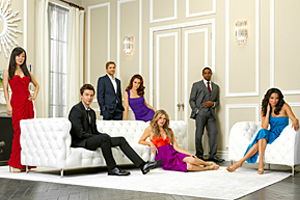 By Guillermo Paz
There are sometimes surprising news, specially when talking renewals and cancellations, but this one certainly is not one of those, as anyone who checked out the numbers for the show knew it was coming back, and now ABC made it official as it renewed Mistresses for season two. 
The soapy show made a strong debut this season and turned out to be quite a good product for the alphabet network that it secured a sophomore run for 2014.
Based on the hit UK television series of the same name, "Mistresses" is a provocative and thrilling drama about the scandalous lives of a sexy and sassy group of four girlfriends, each on her own path to self-discovery.
Savannah ("Savi") is a successful career woman working toward the next phase in her life — both professionally and personally — bucking for partner at the law firm where she works while also trying to start a family with her husband, Harry. They've been trying to get pregnant for some time, but when their fertility issues begin to take center stage, Savi finds herself attracted to her flirtatious colleague, Dominic.
The show stars Alyssa Milano, and Lost alum Yunjim Kim among a solid cast that includes Rochelle Aytes, Jes Macallan, Brett Tucker, Jason George and Erik Stocklin.
What do you think? Are you happy Mistresses got renewed? Let me know in the comments section. Follow me on Twitter for more scoop or check the complete and updatable lists of renewed shows of 2013 and cancelled shows of 2013.
Comments
comments