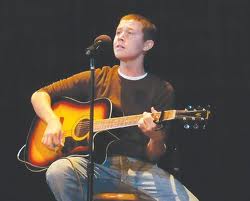 First week of the finalists, of top thirteen in American Idol… (BTW remember I posted an article on where to follow American Idol contestants on Twitter) and it has left the first elimination. Right out of the gates I have to say America got it right. The pitchiest of the thirteen finalists left the show.
What can I take out from this:
1- Scotty McCreery started singing Baby lock the doors and turn the lights down low… well, turn the lights back on to see the birth of a country superstar. He has all the chops. He´s a consumated country singer and deserves to win it all. But even if he Scotty McCreery does not win American Idol, I can bet he´ll have one of the biggest careers out of the thirteen (and perhaps even if you enlarge the list with past alums. He´ll be top ten ever probably).
2- Luckily Karen Rodriguez will get a rebounding chance after a not so good performance.
3- Pia is the real deal
4- Stefano Langone is a guy I like. Don´t know why, he just seems to be a good fellow. He can also sing quite well too.
5- Ashton Jones was eliminated from American Idol and while she´s a good singer, her performance last night endangered her a lot.
6- Casey Abrams might get eliminated from American Idol if he can´t recover. Ryan Seacrest announced today he wouldn´t be joining the show because he had to go to the hospital. It´s the second time there. Should he call it quits?
7- Haley was on the bottom three and I wouldn´t have pictured her there after last night.
8- Thia is very much liked by the audiences. What´s not to like about her? So far I could not pinpoint anything that rubs me the wrong way with her.
9- Naima is good, she´s solid; I get it… I´m just not on the bandwagon yet.
10- Paul… that´s a bandwagon I´m on. It´s time for the quirky version of Rod Stewart to become a star. He definitely has tons of charisma.
11- Jacob… this is some character. He can sing very well, but will he win American Idol? Not sure, but he´s top five material to say the very least
12- James Durban… talk about some hype… I don´t want the next Adam Lambert so close to the first one… variety is key. We all saw Lambert come as a nice surprise last season… this season Durban is more of the same. Not his fault… just timing.
13- Lauren will be an underdog in my eyes… that´ll probably mean I´ll end up rooting for her. "Rudy, Rudy, Rudy!"
What did you think about American Idol first elimination of Ashton Jones? Is she the one who needed to go?
What about Casey Abrams health issues? how about my opinions? Let me know yours in the comments section.
Also, remember to follow me on Twitter for more American Idol 2011 spoilers and scoop.
Comments
comments