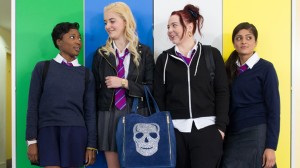 We are well over 300 shows on the renewal front for this year, and that was to be expected, especially since now we are adding there also the shows that have been renewed across the pond in British Television, and now, BBC Three renewed Some Girls for season two.  
Filming has begun in south London on a second series of the critically acclaimed, vibrant comedy series, Some Girls. Viva, Amber, Saz and Holli are back. Back with all the mayhem and attitude that came with series one for the worst-behaved schoolgirls on television.
Produced by Hat Trick Productions for BBC Three, the 6×30-minute series follows the lives and loves of our fierce foursome as they continue their painful and hilarious journey through both home and sixth form life at Greenshoots Academy.
So what can we look forward to in this brand new series? More boys (obviously!), new and unusual crushes, a total lack of discipline and plenty more of the rude stuff. The girls' lives are packed with dilemmas: Who's the hottest boy at school? Who's the biggest bitch? Is it acceptable to snog your best friend's ex – and if so, can you catch the action on your camera phone?
Viva and Rocky are now an item but Viva is full of doubts about where the relationship is headed. Fortunately Holli, Saz and Amber are always on hand to offer her advice about what to do. Unfortunately, their advice is usually rubbish.
What do you think? Are you happy Some Girls got renewed? Follow me on Twitter for more scoop on shows getting renewed like Some Girls, or check the complete and updatable lists of renewed shows of 2013 and cancelled shows of 2013.
Comments
comments