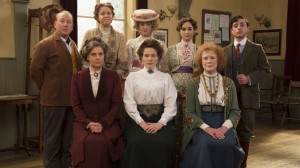 In a day filled with announcements for show renewals, another one from across the ocean, as BBC Two renewed Up The Women for a new season.
A second series of Up The Women, written by and starring Jessica Hynes (Spaced, Twenty Twelve) and also starring Rebecca Front (Nighty Night, The Thick Of It) has been commissioned for BBC Two.
The new series will comprise 6×30-minute episodes and will be made by BBC In-House Comedy and Baby Cow Productions. This series was commissioned by Janice Hadlow, Controller, BBC Two and Shane Allen, Controller of Comedy Commissioning. It is produced by Emma Strain (Miranda) and directed by Christine Gernon (Gavin & Stacey, One Foot In The Grave, Grandma's House).
Up The Women is set in Banbury, 1910. Having been inspired by the Women's Suffrage Movement in London, a group of villagers, formerly known as the 'Banbury Intricate Craft Circle' have set up their own, hilariously ineffectual, movement, calling themselves 'The Banbury Intricate Craft Circle Politely Request Women's Suffrage'.
The first series saw the group picket the post office, overcome inner-circle disputes and receive a visit from the great Emmeline Pankhurst herself, but what next for the movement? What schemes will be cooked up in circle's headquarters, Banbury Church Hall? The second series promises six more wittily written instalments of the group's exploits and more excellent comic performances from its talented cast.
What do you think? Are you happy Up The Women got renewed? Follow me on Twitter for more scoop on shows getting renewed like Up The Women, or check the complete and updatable lists of renewed shows of 2013 and cancelled shows of 2013.
Comments
comments