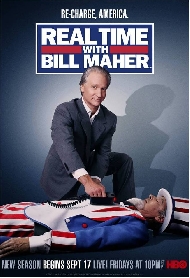 Ok, I have two videos about Real Time with Bill Maher to show you and have fun.
Our favorite Political satirist returns with Real time with Bill Maher, coming back this friday, September 17 at 10PM on HBO.  In anticipation of the new season, I would like to share with you a very entertaining "rant" from Bill Maher he just recorded, as well as the Season 8, Part 2 trailer.
On premiere´s week guests at Real Time with Bill Maher will be Filmmaker Michael Moore, Mad Men star Jon Hamm, ABC News senior Foreign Affairs correspondent Martha Raddatz, Republican Strategist Mark McKinnon and UC Berkeley Professor Robert Reich.
You can submit your questions for Bill Maher and his roundtable guests I listed, and the selected questions will be answered at HBO.com following the premiere of Real Time with Bill Maher, Friday September 17th.
Bill Maher rant video
Real Time with Bill Maher season 8 trailer
Are you going to watch season premiere of Real Time with Maher? Let me know in the comments section.
And remember to follow me on Twitter for more info.
Comments
comments