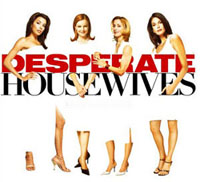 More and more information on the front! Oh this Television Critics Association panels! And this one´s for our of review of all the cancelled shows on 2011 and the renewed shows on 2011…
ABC is cancelling Desperate Housewives, making season eight the final run for the show.
On the bad news: Desperate Housewives gets canceled and will end in 2012, and that´s the sad part. On the brighter side, the show will have a full season eight to prepare the farewell and go out with a bang.
This was just reported by Deadline: The series premiere drew 21.6 million viewers and the show's first season finale attracted over 30 million viewers. Since 2006 and continuing into 2010, it was the most-watched comedy series internationally, with an average viewership of 51.6 million viewers across 68 territories. Moreover, it was the third-highest revenue earning show for 2010, with $2.74 million per half hour.
So, why is Desperate Housewives canceled or ending? Well, first of all, creator Marc Cherry is no longer running the show, then former co-star Nicolette Sheridan is suing, third, there´s been so many episodes and a long long run that eventually things get to a point where it´s still good to go on top. And probably they all want to go on top.
Strange thing is that the cast is locked for a potential season nine, and that strikes me wrong. Why would you walk away if you had Teri Hatcher, Felicity Huffman, Eva Longoria and Marcia Cross under contract?
What do you think? Are you sad to see ABC canceling Desperate Housewives? Let me know in the comments section.
Also, remember to follow me on Twitter for more Cancelled and renewed shows news such as this cancelation for Desperate Housewives by ABC.
Comments
comments