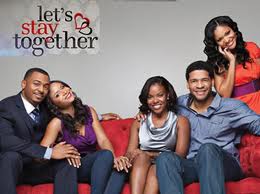 We are reviewing all the cancelled shows and renewed shows of 2011.
And the same day as HBO renewed Game of Thrones for a second season, BET gave some official nods too that may be overlooked and we don´t want that. BET renewed The Game, but Let´s Stay Together also got a renewal order for a second season.
In the official announcement, Debra L. Lee, Chairman and CEO, BET Networks said: "This is the year that our audience, advertisers and partners have been waiting for. The incredible success of 2010 and 1Q'11 have truly put BET Networks in a brand new game and affirms our strategy to continue offering compelling content on air, online and in market,"  "Our insights from African- Americans Revealed and our brand strategy served as a blueprint for our 2011 programming mix for BET and CENTRIC."
This renewal for Let´s Stay Together, and The Game, came paired to Reed Between The Lines, a new sitcom with Malcolm Jamal Warner, and a couple of web oriented scripted series.
What do you think about BET renewing Let´s Stay Together for season two? Let me know your thoughts in the comments section.
Also, remember to follow me on Twitter for more Cancelled and renewed as Let´s Stay Together.
Comments
comments