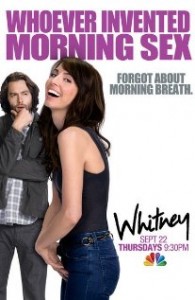 Always, when fall season starts, our lists of renewed shows on 2011 and all the cancelled shows on 2011,get bigger.
And in this case, the renewal list is, since NBC renewed Whitney, bringing the show to full season pickup, by getting a back order batch of episodes.
This should be a very happy week for Whitney Cummings, since the other show she created, 2 Broke Girls got renewed also for full season pickup, and is blasting through the ratings. Although with more modest numbers than Girls, Whitney has stayed steady and is a nice little comedy that features a very interesting ensamble that includes Chris D´Elia, Maulik Pancholy, Zoe Lister Jones, Dan O´Brien and Rhea Seehorn (These last two I had the chance to interview yesterday, and I´ll post it as soon as I can).
Whitney gets renewed for full season pickup and that means stand up people getting a victory, since the couple in there is a pair of great stand up comedians. In fact, if you see the show, you´ll realize that some of the monologues from Whitney and Chris are being introduced in the plot; most notably the Silent Treatment as a prize instead of punishment.
What do you think? Are you happy NBC renewed Whitney? Will you watch Whitney on nBC? Let me know in the comments section.
Also, remember to follow me on Twitter for more cancelled and renewed as Whitney shows scoop.
Comments
comments