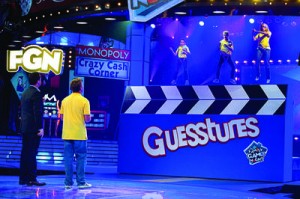 We are reviewing all the cancelled shows and renewed shows of 2011.
And today The Hub,  went a long way in the making sure good family tv front. It has launched a whole bunch of shows. Renewing ten shows and announcing 9 new original series and getting also the rights for Are You Smarter Than a Fifth Grader?
The Hub Renewed Family Game Night for a new season.
What is Family Game Night about? Plot
A new original game show where kids and adults play as teams for points and prizes. Within each hour-long episode, contestants play a variety of classic games, challenging both contestants and viewers with strategy, creativity and pure luck. The series will feature an array of Hasbro games with endless challenges and fun!
Pairing Family Game Night and Are You Smarter than a Fifth Grader is a good move in my eyes.
Are you happy Family Game Night got renewed by The Hub? Let me know in the comments section.
Also, remember to follow me on Twitter for more Cancelled and renewed shows as Family Game Night scoop.
Comments
comments