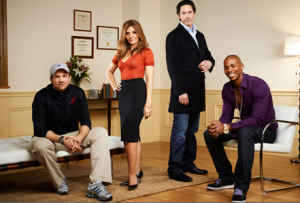 I started today to post things onto the lists of renewed shows of 2013 and cancelled shows of 2013. And now another show from USA is getting the callback, as USA renews Necessary Roughness for season three. The show, currently in its second season, is premiering its backseason run on January 23rd at 10/9C.
Season three renewal order for Necessary Roughness will be of ten episodes. Does this mean it´s going to be the last one? Not necessarily, but it sure raises some questions.
"Necessary Roughness" stars Golden Globe nominee Callie Thorne as Long Island therapist Dr. Dani Santino (Callie Thorne, "Rescue Me," "Californication"), whose personal life unravelled when she found her husband cheating. Diving fully into her work, she takes on the challenge of rehabilitating a bad boy professional football player (Mehcad Brooks, "True Blood," "Desperate Housewives") whose off-the-field antics threaten his career and the team franchise. The series also stars Marc Blucas ("Knight and Day," "Buffy the Vampire Slayer") and Scott Cohen ("Law & Order: Trial by Jury," "Gilmore Girls").
The series is a Sony Pictures Television and Universal Cable Productions co-production. The executive producers are Liz Kruger, Craig Shapiro, Jeffrey Lieber and Kevin Dowling.
What do you think? Are you happy Necessary Roughness got renewed? You can also follow me on Twitter for more scoop on shows getting renewed like Necessary Roughness has.
Comments
comments