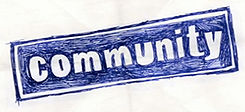 We are reviewing all the cancelled shows and renewed shows of the season.
This is not exactly neither a cancellation nor a renewal, but… it´s a new order!
Community has just got ordered 9 more episodes and signed a  full 22 episode season.
So, in a way NBC has announced the renewal of Community for a second half first season. That´s probably despite of the not so promising ratings on the show.
What is Community About? – Plot
Community is an American comedy series currently airing on NBC about students at a community college in Denver, Colorado. The series premiered on September 17, 2009 and airs in the 8:00pm ET time slot. The show is a joint venture production between Universal Media Studios and Sony Pictures Television. The pilot of the series premiered on Facebook where it was viewable for a limited time. It has since been available on Amazon Video on Demand, the video-on-demand service for PlayStation 3, as well as Hulu.
Community centers on Jeff Winger (Joel McHale), a suspended lawyer who is back in school after his college degree is deemed invalid by the State Bar Association. The show focuses on Jeff's experiences attending fictional "Greendale Community College" in Greendale, Colorado and the people he meets there. There is a professor, Ian Duncan (John Oliver), whom Jeff represented as a lawyer. He also meets a girl, Britta (Gillian Jacobs), who is his main love interest in the series, as well as Pierce (Chevy Chase), an aging moist-towelette tycoon who has been married seven times.
Are you happy that NBC is extending Community?
Comments
comments