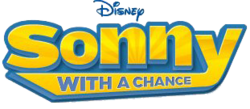 We are reviewing all the cancelled shows and renewed shows of the season.
We were very optimistic already about the fate of Demi Lovato´s Sonny With a Chance… and we weren´t wrong. Disney has picked Sonny With a Chance for a second season and now it´s official.
We were speculating about Sonny With a Chance being renewed, but now it´s official.
And alongside Sonny With a Chance, there goes Rules of Engagement, How I Met Your Mother renewed and Hannah Montana all heading towards renewal.
Sonny With a Chance is a Disney Channel original comedy series created by Steve Marmel which follows the experiences of fictional teenager Sonny Munroe, who becomes the new cast member of a live comedy show, So Random!. The series debuted on February 8, 2009 in the US. The series premiered on May 29, 2009 on Disney Channel Latin America. It was announced in June 2009 that the show had been picked up by Disney for a second season.
What is Sonny With a Chance About? – Plot
The series centers on character Allison "Sonny" Munroe (Demi Lovato), who moves with her mother from a small town in Wisconsin to Hollywood, California after being cast in a fictional sketch comedy titled So Random!. The series follows Sonny's first experiences with acting and stardom, such as creating skits, maintaining a positive image in the media, and getting along with her cast mates. Sonny is referred to as the "nice girl" and gets along well with executive producer Marshall (Michael Kostroff), as well as most of the cast. She maintains a frenemy relationship with Tawni (Tiffany Thornton), her dressing room mate who dislikes sharing the spotlight with Sonny, often conceding to Tawni's spoiled nature in order to keep the peace. Sonny also tried to play peacemaker in the long standing feud between the cast of So Random! and the cast of MacKenzie Falls, a popular teen drama show starring Chad Dylan Cooper (Sterling Knight) which shoots in the same studio.
Are you happy Sonny With a Chance is renewed for a new season?
Comments
comments