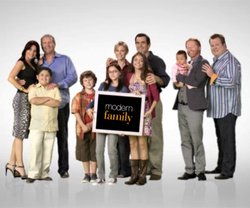 We are reviewing all the cancelled shows and renewed shows of the season.
This is a no brainer. The show´s critically acclaimed. The show earned a Globe nomination. The show is one of the best things that premiered during 2009. So, a renewal was to be expected, and today, ABC announced the renewal of Modern Family for a second season.
What are your thoughts? Are you happy that Modern Family got renewed by ABC for a second season?
What is Modern Family About? Plot
Modern Family is an American mockumentary comedy TV series. The half-hour series, which was created by Christopher Lloyd and Steven Levitan, is produced by Fox Television Studios. The mockumentary follows the families of Jay Pritchett (Ed O'Neill), his daughter Claire Dunphy (Julie Bowen), and his son Mitchell Pritchett (Jesse Tyler Ferguson). While Claire is a homemaker mom in a traditional family, Jay is married to a much younger woman and raising a pre-teen stepson, and Mitchell and his partner have adopted a Vietnamese baby.
Comments
comments