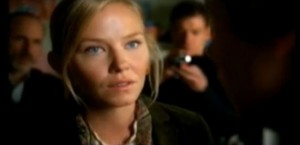 We are reviewing all the cancelled shows and renewed shows of the season.
Now it´s time for bad news. Past Life gets cancelled by Fox.
Are three episodes time enough to let a show develop? Probably not, but that´s all the time Past Life got from Fox before they decided to ax the show.
So, Past Life gets cancelled by Fox due to low ratings.
It may not come as a shocker since the show was consistently getting bad numbers.
Only The Beautiful Life was cancelled on an earlier stage this year after only two episodes.
What is Past Life About? Plot
Past Life is a television series which premiered on Fox Tuesday, February 9, 2010 at 9/8c. After the premiere, subsequent airings will be broadcast on Thursdays beginning February 11, 2010, during the 9/8c timeslot.
The series was created by David Hudgins ("Friday Night Lights") and inspired by the book "The Reincarnationist," a crime thriller by M.J. Rose, whose main character, Josh Ryder, solves a 21st-century crime with memories and clues from his past life in ancient Rome.
Past Life was officially canceled by FOX due to declining ratings, and only 3 episodes aired.
Are you sad that Past Life is cancelled by Fox?
Comments
comments