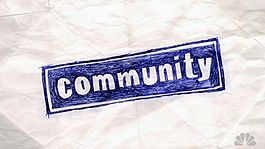 We are reviewing all the cancelled shows and renewed shows of the season.
And as we said while talking about 30 Rock being renewed, NBC was the one giving away the news.
The Community gets renewed by NBC for a second season!
The Joel McHale sitcom will get a sophomore season to try and gain some momentum.
What is The Community About? Plot
Community is an American comedy series currently airing on NBC about students at a community college in Denver, Colorado. The series premiered on September 17, 2009, and currently airs in the 8:00 pm ET time slot. It was previously in the 9:30 pm ET time slot, beginning with its debut, but later relocated as of the fourth episode. The show is a joint-venture production between Universal Media Studios and Sony Pictures Television. The series pilot premiered on Facebook where it was viewable for a limited time. It has since been available on Amazon Video on Demand, the video-on-demand service for PlayStation 3, and Hulu.
On March 5, 2010, Community was renewed for a second season.
What do you think? Are you happy The Community gets renewed for a second season by NBC?
Comments
comments