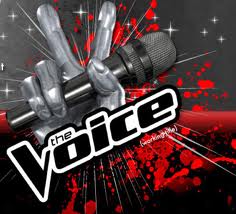 There´s another Casting Call on my e-mail. A great opportunity here. A casting call for NBC The Voice.
Hope it´s useful
Folks at NBC.COM are bringing the audition experience directly to vieweres with new interactive tool for the upcoming reality competitio series "The Voice".
"The Voice Online Audition Tool" is available on NBC.com where viewers will be able to showcase their talent from their own home and be rated on pitch and expression.
Carson Daly will be the host of The Voice, a show about real talent. Four famous musicians search for the best voices in America and will mentor these singers to become artists.  America will decide which singer will be worthy of the grand prize.
The Voice with Carson Daly Casting Call for the show premiering next spring is starting right now!
How to Audition Online for NBC The Voice?
The grand prize for this new competition show is $100,000 and a record deal with a major label!
You need a webcam with a microphone to get started. In addition, you must sing one of the pre-selected songs only.
If you score an 8 or higher, your video is more likely to be reviewed by the show's casting team or producers!
To submit a video to The Voice Audition, you must be at least 13 years or older, a legal U.S. resident, and have your parents' permission if you are under 18 years old. For your video to be eligible for consideration by the show's casting team, you must be at least 16 years or older, and meet the other eligibility requirements listed on the show casting website.
Producer's current casting period is set to end on March 1st, 2011 (this may change)
How does the Online Audition Tool for The Voice work?
Submitting video is simple and easy. Just pick the song you'd like to sing from the options listed. Once you've practiced and feel confident, use your webcam and the player on the Online Audition page to record your video. Only you should appear in your video. If you're happy with your performance, click "Submit." You'll then be directed to the myNBC login page. Log-in with your myNBC account or register for a new account, read the Terms of Submission, and click that you agree to them. Then click "submit" again to send us your Video. Once the Video has been submitted, the Online Audition Tool will evaluate and assign the Video a numerical score from 1 through 10. The Video may then be posted on NBC.com (in NBC's sole discretion) or used in any other way permitted in the Terms of Submission. If the Video is posted on NBC.com you will be provided tools to help you share it with others. You'll receive a confirmation if the Video is posted to NBC.com.
How to submit your vudeo audition for The Voice?
Host of The Voice, Carson Daly, explains how you can audition right online.
Can anyone submit a Video to The Voice Online Audition?
You must be 13 or older as of the date of your submission;
If you are under 18 years of age, you must have your parents' permission to participate; and
You must be a legal resident of the United States.
Is there any limit on the number of Videos I submit to The Voice Online Audition process?
For now, no. But we highly encourage you to practice and then submit only your best version of any one song. If you want to try a different song or style, feel free to submit another.
What happens to my Video once I've submitted it to The Voice Online Audition?
After you "submit" your Video, it may be posted on NBC.com (in NBC's sole discretion) or used in any other way that we choose. If your Video is posted on NBC.com you will be provided tools to help you share it with others.
Submitting your Video to NBC.com doesn't place you into the official casting process for "The Voice" (the "Program"). Producer's casting team does plan to periodically review videos submitted to NBC.com. (They may even see videos that are submitted but not posted.) And because Producer's casting team is looking for top voices, they think they'll pay special attention to Videos that receive a score of "8" or higher. (Given the high volume of submissions, unfortunately Producer can't guarantee that the casting team will be able to review all Videos that score 8 or higher.)
If Producer's casting team sees and likes your Video during an active casting period for the Program, they'll be in touch to let you know the next steps in the process. Entering the casting process will require you to submit paperwork provided by Producer in which, among other things, you will be asked to certify that you meet the Program's eligibility requirements for participation. For example, you must be 16 or older to be considered for the Program. For more information on the Program eligibility requirements and other methods of entering Producer's casting process, go to Producer's website http://nbcthevoice.com/.
If the casting team is not interested, you will not hear further. If you think you rocked it, but haven't heard from the casting team, feel free to practice some more, change your approach, and submit another Video! And keep your eyes open for announcements of in-person auditions in a city near you, which is another way to get in front of the casting team.
Producer's first round of casting is currently scheduled to end on approximately March 1st, 2011, but that date may change in Producer's sole discretion. Even if Producer is not currently casting when you submit, your Video may be considered for use online or in the Program or in other ways, and it may be reviewed and considered by casting teams for future editions of this show or others, or as needs arise with the current cycle. So don't give up!
Can I play other music while I sing for The Voice Audition?
Your vocal performance should be all that we hear. You should not play guitar, ask your roommate to play guitar, or play any recording while you sing along. And please, no auto-tune. That's cheating. And don't get any ideas about submitting a recording of your roommate singing, either. That'll just lead to a REALLY embarrassing moment if you do eventually sing for a member of the casting team. Spare yourself the trauma.
What else should I keep in mind?
As we mentioned, we might put your Video up online or it might be used in the Program or in other ways. So please use good judgment about what you're wearing and doing on camera.
That means – no swearing, profanity or hurtful words. Stick to the lyrics of the song; don't ad-lib. No speeches. We want to hear you sing! We don't want to see or hear other people – this is about you and your voice only. Please adjust your camera to avoid artwork, posters, or photos visible in the background. And don't wear clothing with logos, images of people, or artistic designs.
The tool records performances and then rates them on a scale from 1 to 10 based on pitch and expression.  Once submitted, eligible performances will be showcased on NBC.COM; they can then be rated by fans and shared via social networks.
"The Voice" casting team will review submitted videos, seeking the ones that boast the highest scores and the best performances.  Users interested in a chance to compete in this season of the show are encouraged to submit their best performances by March 1, the current casting cut-off.
Unlike an open casting call, users of the online tool have the opportunity to practice and hone their performance, rate themselves against others, work to raise their score and submit multiple times.
And What is The Voice About? How´s the show?
"The Voice" is modeled after Holland's top-rated vocal talent discovery show, "The Voice of Holland."
Hosted by Carson Daly, "The Voice" is a show about real talent. Four famous musicians search for the best voices in America and will mentor these singers to become artists.  America will decide which singer will be worthy of the grand prize.
The show's innovative format features three stages of competition.
The first begins with the blind audition, then the competition enters into a battle phase, and finally, the live performance shows.
During the blind auditions the decisions from the coaches are based solely on voice and not on looks.
The coaches hear the contestants perform but they don't get to see them thanks to rotating chairs.  If a coach is impressed by the contestant's voice, he/she pushes a button to select the contestant for his/her team.
At this point, the coach's chair will swivel so that he/she can face the contestant he/she has selected.
If more than one coach selects the talent, the power shifts to the contestant, who may choose which coach he/she wants to work with throughout the competition.
Once the teams are set, the battle is on.  Coaches will mentor the contestants and dedicate themselves to developing their singers, giving them advice, and sharing the secrets of their success.  During the battle rounds, the coaches will pit two of their own team members against each other to sing the same song together in front of a studio audience.  After the vocal face-off, the coach must choose which of his/her singers will advance.
At the end of the battle episodes, only the strongest members of each coach's roster remain and proceed to the live stage shows.
In this final performance phase of the competition, the top contestants from each team will compete against each other during a live broadcast.  The television audience will vote to save one talent on each team, leaving the coach to decide live who they want to save and who will not move on.   At last, each coach will have his or her best contestant left standing to compete in the finale.  From these four, one will be named "The Voice" and will receive the grand prize of a recording contract and $100,000.
"The Voice" is a presentation of Talpa Productions, Mark Burnett and Warner Horizon Television.  Created by John de Mol, he will executive produce along with Burnett and Audrey Morrissey.
What do you think? Will you enter the online auditions for The Voice on NBC.com? Let me know your thoughts in the comments section.
Also, remember to follow me on Twitter for more The Voice scoop.
Comments
comments