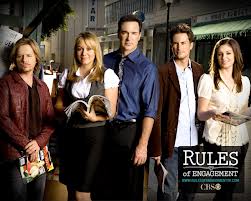 After seven seasons of being the go to show when a new sitcom was underperforming, it finally is the time for Rules of Engagement to get cancelled by CBS. The show was already over the 100 episodes mark, making it a safe bet for syndication, and also this was the last season in which the cast was under contract, and they had other pilot projects going on. So it was much more like a mutual agreement cancellation for Rules of Engagement.
We can safely say that the show was always flying under the radar, but every single time performed as a solid option, and will be remembered as a good alternative when things went awry for a sitcom. Being Partners tha latest cancelled show Rules took over the timeslot and its followers and viewers always found the show.
Rules of Engagement is getting cancelled but was a safe bet every single year, making it a show that, while never appreciated, we could hardly call anything short of successful.
What do you think? Are you sad Rules of Engagement got cancelled? Follow me on Twitter for more scoop on shows getting cancelled like Rules of Engagement, or check the complete and updatable lists of renewed shows of 2013 and cancelled shows of 2013.
Comments
comments