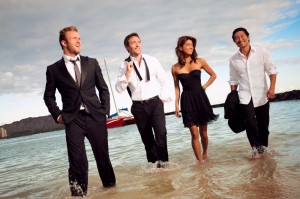 Tararararaaaara, tararararaaa…
Probably one of the catchiest songs on TV ever, and one of the best. The sole fact of having it each week on my television sounding is enough for me, but when you pair it with a solid re imagination of the show, what else can we ask for? Not that much, and that´s why CBS is renewing Hawaii Five-O for season five, making the show reach the milestone of 100 episodes and surpassing it for the season that will premiere September 2014.
HAWAII FIVE-0 is a contemporary take on the classic series about a new elite federalized task force whose mission is to wipe out the crime that washes up on the islands' sun-drenched beaches.  Detective Steve McGarrett, a decorated Naval officer-turned-cop, returns to Oahu to investigate his father's murder and stays after Hawaii's former governor persuaded him to head up the new team: his rules, no red tape and full blanket authority to hunt down the biggest "game" in town.  Joining McGarrett is Detective Danny "Danno" Williams, a relocated ex-New Jersey cop – a working man in paradise who prefers skyscrapers to the coastline – but who's committed to keeping the islands safe for his young daughter; Chin Ho Kelly, an ex-Honolulu police detective, and former protégé of McGarrett's father, who was wrongly accused of corruption; Dr. Max Bergman, the quirky coroner; and Chin's cousin, Kono Kalakaua, a beautiful and fearless native, eager to establish herself among the department's elite. Assisting the team is Lieutenant Catherine Rollins, a dedicated military officer with romantic ties to McGarrett.  McGarrett vows to bring closure to his father's case, while the state's brash FIVE-0 unit, who may spar and jest among themselves, is determined to eliminate the seedy elements from the 50th state.
What do you think? Are you happy Hawaii Five-O got renewed for a fifth season? Follow me on Twitter for more scoop.
Comments
comments