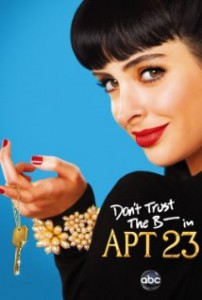 In the last episode of Don´t Trust The B*** in Apt 23, in which Chloe tries to teach June how to have casual sex and not wanting a relationship with everybody she might romance.
In that episode, she gives June a kit for casual sex. The episode is called It´s Just Sex, Chloe takes it upon herself to teach June to be sexually empowered and to dabble in some casual encounters. However Chloe's own sex life catches up to her, and to James, when their old sex tape leaks out to the public and James freaks out on how this will affect his likeability on "Dancing with the Stars".
What is in Don´t Trust The B*** in Apt 23 kit for casual sex?
"It´s a casual sex kit, there is make up remover, cab fare, energy bar, instant coffee, tweezers, tampons, pepper spray a short article, and pictures of me, for the casual sexer"
What do you think should be on a casual sex kit? Let your imagination fly on the comments. Also, remember to follow me on Twitter for more Don´t Trust the B in Apt 23 spoilers, scoop and quotes.
Chloes kit for casual sex – Dont Trust the B in Apt 23
Comments
comments