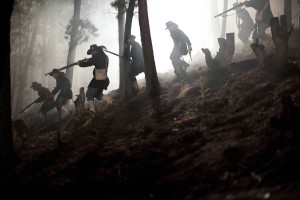 HISTORY® DIGITAL announces the kick-off of Civil War Week, – a week-long campaign commemorating the anniversary of two of America's bloodiest battles, Gettysburg and Vicksburg, with themed content and daily offerings across several platforms including History in the Headlines, History Lists, Hungry History and the ever popular Civil War Today app.
In addition, HISTORY.com will host a live streaming event from Gettysburg in honor of the 150th anniversary of that epic battle. The commemoration, organized with the Gettysburg Foundation and the National Park Service will stream live, free of charge, starting at 8/7c.
HISTORY will also be reigniting its enormously successful Give 150 campaign during Civil War week. Give 150 is a multi-year initiative to help preserve Civil War sites and stories by mobilizing the public to make donations to two non-profit organizations, the National Park Foundation and the Civil War Trust.
HISTORY's Civil War content includes a broad collection of topical and biographical articles, exclusive short-form video series featuring top Civil War historians as well as extensive Gettysburg and Civil War-related video. Fans can also watch the Emmy® Award-winning docudrama "Gettysburg," produced by filmmakers Tony and Ridley Scott and the three-part special "Unknown Civil War: Battle of Gettysburg."
HISTORY's Civil War Week will showcase the following:
Civil War Today app
For a limited time, HISTORY will be offering the popular Civil War Today app for just $.99. Available for iPad, the app lets users explore America's bloodiest conflict through documents, photographs, diary entries and maps updated daily, unveiling the events of the war in real time.
Civil War 150 Interactive
Visitors can also check out HISTORY's award-winning Civil War 150 interactive, which includes highlights on the most important people, places, events and technologies of the war, and was selected by the Library of Congress for inclusion in its Civil War Sesquicentennial permanent collection.
Give 150
In commemoration of the 150th Anniversary of the American Civil War, HISTORY invites the public to help preserve and protect Civil War sites and stories through the Give 150™ national campaign. Give 150™ donations go directly to the Civil War Trust and the National Park Foundation, both non-profit 501 (c) 3 organizations, to help protect Civil War sites and lands, and support their interpretation. Launched in 2011, Give 150 has already raised nearly $200,000.
Daily content includes:
Sunday June, 30 at 8pm ET/5pm PT – Gettysburg: A New Birth of Freedom
HISTORY® is joining with the Gettysburg Foundation and the National Park Service to bring you Gettysburg: A New Birth of Freedom. Tune in live on Sunday, June 30 at 8pm ET for music by the United States Military Academy Orchestra, a performance of the national anthem by country music artist Trace Adkins, a keynote address by historian Doris Kearns Goodwin, and "Voices of History," a dramatic reading of eyewitness accounts written by soldiers and citizens swept into the events of the battle and its aftermath. The event will be filmed at Gettysburg National Military Park and brought to you live exclusively at History.com.
Monday, July 1:
History in the Headlines: Gettysburg's Sole Civilian Casualty:
The History in the Headlines daily news section will examine some lesser-known aspects of the battles including the life and death of 20-year old Mary Virginia Wade, Gettysburg's sole civilian casualty.
Tuesday, July 2:
History in the Headlines: Little Round Top:
A look at Joshua Lawrence Chamberlain's crucial defense of the ground at Little Round Top.
Wednesday, July 3:
History in the Headlines: How Gettysburg Changed America:
HISTORY.com examines how the Battle of Gettysburg changed America forever.
Ask History: Why do Civil War Battles Often Have Two Names?
Antietam or Sharpsburg? Manassas or Bull Run? What you call a battle has nearly everything to do with where you grew up. Ask HISTORY gets to the bottom of one of the Civil War's greatest mysteries: Why do so many of the battles of the War Between the States have two names?
Thursday, July 4:
History in the Headlines: July 4th and Vicksburg
HISTORY looks at why the fall of Vicksburg led to an unusual Independence Day tradition.
History Lists: History's Longest Sieges/Vicksburg:
Often overshadowed by the massive losses at Gettysburg, the fall of the crucial southern defenses at Vicksburg, Mississippi, which split the Confederacy in two, was every bit as critical as the Union victory in Pennsylvania. Ulysses S. Grant's victory didn't come easy—the city was only taken after a brutal two-month siege. HISTORY Lists takes a deeper look at Vicksburg and other long, deadly sieges throughout history.
Friday, July 5:
Hungry History: Battlefield Foods
What's hardtack and why did soldiers on both sides of the divide refer to small cubes of food as "desecrated vegetables?" Hungry HISTORY examines the knapsacks of Civil War troops to find out more about battlefield foods.
History in the Headlines: After Gettysburg – Draft Riots
HISTORY looks into how post-Gettysburg tensions contributed to the New York City Draft Riots, the largest civil insurrection in American history.
Follow me on Twitter for more HISTORY scoop and Civil War related programming.
Comments
comments