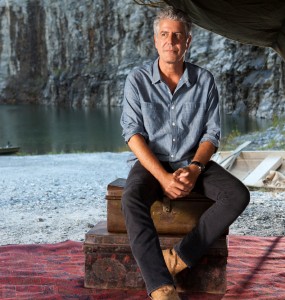 Everyone knew that when Anthony Bourdain´s long running No Reservation ended to give him room to make his new CNN show, it meant that there was going to be a new staple show for him on the way, and now that´s confirmed as CNN renewed Anthony Bourdain Parts Unknown for second season. The sophomore run will start in September 15th and the new season of CNN's Popular weekend Lifestyle Series will Feature Tours of Spain, New Mexico, Israel, Copenhagen, Sicily, Detroit, Tokyo, and India.
The CNN Original Series Anthony Bourdain Parts Unknown, will begin its second season of eight episodes on Sunday, September 15, it was announced by Jeff Zucker, President, CNN Worldwide.
The new season of the weekend lifestyle series will explore the food, culture and history and parts unknown within Spain, New Mexico, Israel, Copenhagen, Sicily, Detroit, Tokyo and India. The program will again air on CNN International, reaching more than 271 million households around the world.
"Tony and Zero Point Zero Production have created a spectacularly beautiful, informative and entertaining series for CNN that has resonated with viewers in a profound way," said Zucker. "In addition to its runaway ratings success, it is also quite the conversation starter, as anyone who follows social media can attest. We are so happy to announce season two, and I can assure you that audiences will love what is coming up on the show."
Launch-to-date, Anthony Bourdain Parts Unknown is delivering 389,000 viewers in the key Adults 25-54 demo, up 440% vs. the same period one year ago (72,000) and has ranked #1 in cable news on Sunday in each of its first three weeks on the air. In total viewers, the series is up 122% (872,000 viewers vs. 392,000 viewers) at 9pm vs. CNN programming one year ago.
Hosted by the world-renowned chef, bestselling author and Emmy winning television personality, the series debuted April 14 with an inside look at Myanmar (Burma), followed by Koreatown/Los Angeles on April 21 and Columbia on April 28.
Future episodes in the first season of Anthony Bourdain Parts Unknown has Bourdain delving into the cultures of Quebec (May 5), Tangier (May 12), Libya (May 19), Peru (June 2) and the Congo (June 9).
Viewers can find updates, behind-the-scenes photos, and exclusive content from Anthony Bourdain Parts Unknown by following the show's Twitter account @partsunknownCNN, and accessing the CNN Parts Unknown Facebook page. During each show, viewers are invited to go to the live blog at CNN.com/partsunknown and join in the conversation using the #PartsUnknown hashtag on Twitter.
In addition to his work on Anthony Bourdain Parts Unknown, the host is currently traveling the United States and Canada with his Guts & Glory" live tour, which culminates in Washington D.C. on May 13.
What do you think about this? Are you happy Anthony Bourdain Parts Unknown got renewed? Follow me on Twitter for more scoop on shows getting renewed like Anthony Bourdain Parts Unknown, or check the complete and updatable lists of renewed shows of 2013 and cancelled shows of 2013.
Comments
comments