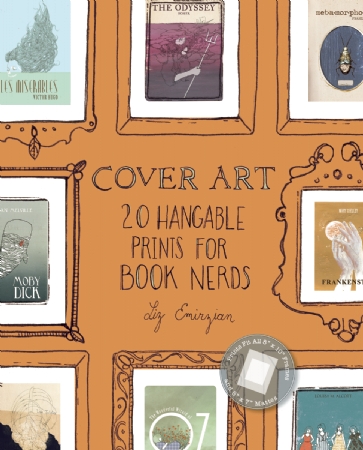 Ulysses Press has this book about books with 20 illustrations by Liz Emirzian, re imagining what a cover for 20 of the greatest novels (or plays) of all times could be.
Mary Shelley´s Frankenstein, Alice´s Adventures in Wonderland, Anna Karenina, The Call of the Wild, The Picture of Dorian Gray, Gulliver´s Travels, The Jungle, Les Miserables, Little Women, Moby Dick, The Odyssey, Pride and Prejudice, Wuthering Heights, The Metamorphosis, Ulysses, The Adventures of Sherlock Holmes, The Secret Garden, The Wonderful Wizard of Oz, Leaves of Grass and Grimm´s Fairy Tales.
The idea behind this book is to give book fans the option to tear out the pages and put them in 8 by 10 frames and have the possibility of getting, for little price, the chance to decorate a full wall with 20 of the biggest stories of mankind.
You can either get this book in Trade paper or in E-Book format. I´d recommend you buy the paper version, as the Ebook will be a lesser experience in comparison.
Book Info:
Complete Title: Cover Art, 20 Hangable Prints for Book Nerds
Author: Liz Emirzian
Price: $15,95
ISBN: 978-1-61243-452-0
40 Pages
Book Link and where to buy it? You can visit the official page here.
If you buy it, let me know how your room ends up decorated, and also, follow me on Twitter for more Book Reviews.
Follow Series & TV – TV & shows scoop's board Books – Reviews and Commentary on Pinterest.
Comments
comments