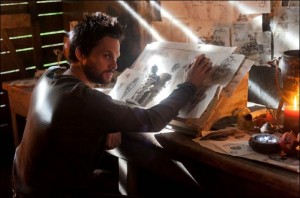 The show only premiered so far, but Starz is doing what looks like a healthy consistent decision and already is renewing Da Vinci´s Demons for season two.
The show premiered last Friday to record setting ratings, therefore, and even though Starz cares more about quality than ratings, renewed Da Vinci´s Demons for season two.
Luckily we are in front of the best from both worlds: a great quality show, that has good, nay, great, numbers.
Starz Chief Executive Officer, Chris Albrecht, announced a second season order for the STARZ Original series, "Da Vinci's Demons," following its recent record-setting first season weekend debut on STARZ on Friday, April 12. The historical fantasy created by David S. Goyer and produced by Adjacent Productions, follows the 'untold' story of the world's greatest genius, Leonardo da Vinci, during his turbulent youth in Renaissance Florence. More than 2.14 million total viewers tuned-in opening weekend to "Da Vinci's Demons," making it the highest-rated premiere weekend ever for a STARZ Original series.
Production of season two of "Da Vinci's Demons" is expected to begin in Wales in May 2013, with an on-air return expected on STARZ in 2014.
"'Da Vinci's Demons' serves up action, adventure and history in a unique and highly entertaining way that only someone like David S. Goyer can," said Albrecht. "The first season premiered to strong audience engagement and we are excited to bring the next chapter of Leonardo da Vinci's adventures to audiences around the world."
"I'm excited that we get to continue the adventures of the world's most eccentric and glorious polymath. Long live Leonardo and thanks to Starz for helping to make it happen," said Goyer.
Also, the theme song for the show has been released on iTunes:
Da Vinci´s Demons Main Title Theme by Bear McCreary link here
What do you think about this? Are you happy Da Vinci´s Demons got renewed? Follow me on Twitter for more scoop on shows getting renewed like Da Vinci´s Demons, or check the complete and updatable lists of renewed shows of 2013 and cancelled shows of 2013.
Comments
comments