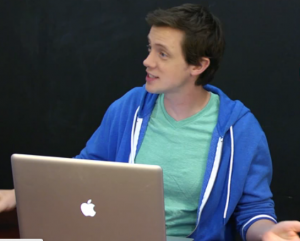 As we are officially entering summer, warm temperatures come along, but it is also officially summer movies time! And folks at Daily Rehash on Ora.tv have a look at the upcoming summer movies.
They do it in their own very peculiar way, as Daily Rehash has us used to. Funny-ly.
Its host Eric Artell goes on for a minireview of what´s on summer movies in a must-watch way.
Daily Rehash is a hilarious daily webisode about everything trending on Twitter, and has tons of topics, ranging from Summer Movies, to Tech News, celebrities, music and sports.
Well, now I´d like to share one of the clips of Daily Rehash from the Movies channel, in which he talks Summer Movies. Enjoy.
Summer Movies Preview 2013 on Twitter | DAILY REHASH | Ora TV
You can also interact with the show on Twitter (After all, that´s where they spend most of their time) following them @DailyRehash.
What did you think about the video? Follow me on Twitter for more scoop, or leave a comment below.
Ora.tv is a new on-demand digital network launched by the one and only, Larry King.
This article was commissioned by Ora.tv for Daily Rehash. All opinions are mine.
Comments
comments