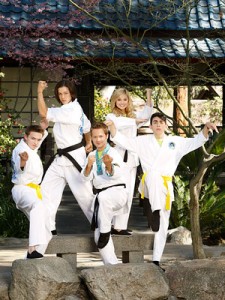 When you have a hit on your hands, you know the show´s coming back. And that´s what Disney XD announced, the renewal of Kickin´It for season four.
Disney XD has ordered a fourth season of its popular live action comedy series "Kickin' It," it was announced by Adam Bonnett, Executive Vice President, Original Programming, Disney Channels Worldwide. Production on the martial arts inspired series will resume in Los Angeles this November for a 2014 premiere.
"'Kickin' It' continues to pack a punch with relatable storytelling, aspirational characters and non-stop action," said Bonnett. "Viewers have watched the Wasabi Warriors grow from inexperienced misfits into inspiring martial artists and we look forward to continuing their journey in the fourth season."
One of Disney XD's highest rated series since its June 2011 premiere, "Kickin' It" was created and is executive-produced by Emmy-nominated Jim O'Doherty ("Grounded for Life," "3rd Rock from the Sun"). Season four will star Jason Earles as Rudy,
black-belt martial artist Leo Howard as Jack, Mateo Arias as Jerry and Dylan Riley Snyder as Milton. Jason Earles also serves as co-producer.
Olivia Holt, who for the past three seasons has played the popular character Kim on "Kickin' It," will leave the series to star in the Disney Channel comedy series "I Didn't Do It" premiering in early 2014.
What do you think? Are you happy Kickin´ It got renewed? Let me know in the comments section. Follow me on Twitter for more scoop or check the complete and updatable lists of renewed shows of 2013 and cancelled shows of 2013.
Comments
comments