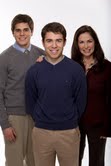 Based on a True Story; When Alex Chivescu's Foster Family Fell Apart, He Knew that in Order to Stay in the High School He Loved, He Had to Find a New Mom and Dad.
"I'm sure you've never received a letter like this before, but I want to make several things clear…I pay for myself, find my own scholarships, get myself a job," began the letter from 17-year-old Alex Chivescu whose successful search for new foster parents comes to life in the Hallmark Movie Channel Original Premiere, "Finding a Family," Saturday, October 15 (8 p.m. ET/PT, 7C).  Emmy® Award winning actress and two-time Golden Globe nominee Kim Delaney ("NYPD Blue," "Army Wives"), newcomer Jared Abrahamson, Sarah-Jane Redmond ("Life Unexpected") and Paul McGillion ("Stargate: Atlantis") all star in the film produced by Emmy® nominated Tom Patricia of "Homeless to Harvard: The Liz Murray Story."
The film is based on the true story of Alex Chivescu, a ward of the state of Michigan, who knowing he cannot be emancipated from the foster care system, searches for a new mom and dad within the school district that he believes can fulfill his lifelong dream of attending an Ivy League university.
Alex (Abrahamson) has a passion for learning, instilled by his loving single mother, Ileana (Delaney) who has a doctorate degree and speaks six languages.  When Alex was 10-years-old, Ileana had a life-altering car crash that left her struggling with bouts of anger and depression, so much so that a family court judge deemed her unfit to parent Alex further.  Thus began Alex's revolving door through the foster care system.  His one constant is school. When Alex's transportation funding ends, he discovers he's about to be assigned to a foster family outside the school district that can provide stability and a curriculum that can get him into an Ivy League university.  Alex is left with only one option: in order to avoid being assigned outside the high school he loves, he must find a new mom and dad.  After reading Alex's passionate plea to find a new family, Jim (McGillion) and Suzanne (Redmond) step forward to offer the brainy teenager "the full family deal."  Alex Chivescu is now a student at Harvard University.
"Finding a Family" is an Entertainment One Television production in association with Randolph Films. Tom Patricia, Ira Pincus, John Morayniss, Noreen Halpern, Mary Martin are the executive producers.  Kim Delaney and Margaret O'Brien are co-executive producers.   Randolph Cheveldave is the producer.  Mark Jean directed from a script by Pamela Wallace.
"It's not something I revisit often, and then to see it portrayed was very emotional roller coaster-esque, certainly, with my experience," Alex recalls during a Sunday evening's break from his heavy workload as Harvard sophomore, majoring in economics.
He's cute and young — still only 20 — with dark hair, a warm smile, and an engagingly frequent, perhaps just slightly nervous laugh.  And nearly-perfect SAT scores.   No wonder when he wrote his letters reaching out to prospective foster parents, people responded.
Alex came to the U.S. from his native Romania with his parents as an infant.  His mother was a multi-lingual college professor, a devoted single mom after her divorce when Alex was two — until her life was shattered by an automobile accident.  The crash left her with a brain injury that caused her to become severely bipolar, doctors said.  She was sometimes abusive.  Alex essentially became the parent through most of grade school, attempting to care for his mom and himself through her rages and despondency, through evictions and police visits.  Aiming to gain control of his own life, as a teen he went to court to terminate her legal parental rights.
"I remember thinking when I saw a picture of Kim, 'This is a very pretty woman, I'm sure she's very nice' — and she was, like, really nice when I met her in person," Alex recalls.  "But then when I saw her doing one of the scenes, and she had all her makeup done and she was fully in character, I was so taken away by how much she looked like my mom, and how much she reminded me of her — that was actually probably the most difficult moment, seeing Kim playing and re-enacting different parts.  It was, you know, certainly more vivid than much of my memory is in recalling these events."
Alex says that his first thought, when he was approached about the movie, was "Wow."  His inspiring story had already landed him on the CBS news and in publications including The Detroit Free Press.  But he says he thought his 15 minutes of fame had come and gone, "and now I could get back to my normal life."
A film, of course, would take things to a whole different level, with "a much more permanent place in the cultural medium," he notes.  "I was very interested and excited.  I wanted to see what the proposal would be, what the project would look like.  I had to think about whether this was really right for me, right for my mom, my family, my foster family.  That was a tough choice, but I decided to go ahead because I thought, and I still think, that it's a worthwhile story to tell."
His life now revolves around Harvard, includes a prestigious internship in New York, lots of friends, his foster family and, yes, his mother.
"She's still fairly ill, unfortunately," he replies, asked about her status today.  "She's still in denial about much of what has happened, including her needs for her health, really, but fortunately, now that I'm an adult, I've taken a more proactive role in her care.  I'm doing a lot more in terms of trying to manage her day-to-day and make sure she's got the social support she needs — I guess just being there for her in a way that I was not able to when I was younger.  As a kid, as a 16 or 17-year-old kid, not only did I have very little comprehension of what I needed to do, but nobody was going to give me authority to try to take care of her affairs.
"I have a pretty good relationship with her now," he adds.  "We talk fairly regularly, but she's still having a lot of challenges, and we'll always have a lot of issues to work through.  But then, she'll always be my mom."
How does she feel about the movie?  "I discussed it with her a couple of times, but like I said, she's still fairly ill, still in denial, so I — if you asked her point blank, 'Is there a movie being made about what happened?'  I don't know if she could answer that question."
As for his foster parents, Jim and Suzanne Bante, "My foster family has given me very free rein with the movie.  I think they're excited to see it."
Alex admits he had concerns about the limitations of telling his life story within an hour and a half framework, knowing it had to be condensed and simplified.  "Obviously, there's a lot of melding of characters and events," he observes, "but I have to say that in spirit if nothing else, the movie is definitely pretty true to form."
He thinks about the film having a positive impact on others who are going through times of struggle.  "My biggest hope is that they take away the real message from the story, which is one of overcoming adversity on your own terms.  It's sort of taking a long hard look at what your problems are, and what you can do to solve them.  I saw that situation at home getting worse, and I did what I could do to fix it, to the extent I could.  I couldn't make my mom better.   Goodness knows I tried.  I mean, that was something out of my control, and once I accepted that, I had to figure out what I could control, what I had the power to change in my life," he says.  "That's what I took full rein of, and just charged off."
What do you think? Will you watch Finding a family October 15 on Hallmark Movie Channel? Let me know in the comments section.
Also, remember to follow me on Twitter for more Hallmark Movie Channel scoop.
Comments
comments