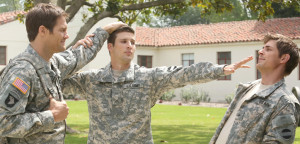 This one is probably the cancellation that hurts the most, but at the same time, the most expected. The show was a low performer, getting rated below expectations, but getting cult-like following. Anyways, Fox cancelled Enlisted after one season. Maybe, just maybe, it could get shopped to Netflix for a streaming second season.
ENLISTED is an irreverent and heartfelt single-camera comedy about three brothers on a small Florida Army post and the group of misfits who surround them. Charming, funny and a natural-born leader, Staff Sergeant PETE HILL (Geoff Stults, "Ben and Kate," "The Finder") was on a path for a huge military career until one mistake overseas got him booted stateside to Fort McGee, the post in Florida where his two younger brothers are stationed. Now, as their platoon sergeant, Pete must serve both as big brother and military boss. Corporal DERRICK HILL (Chris Lowell, "Private Practice," "Veronica Mars") is the middle brother – smart and sarcastic, he likes to stir up trouble and doesn't really care about being a Soldier. Private RANDY HILL (Parker Young, "Suburgatory"), on the other hand, loves it. He's the hyper-enthusiastic, hyper-goofy – just plain hyper – youngest brother who wants to be the gung-ho "G.I. Joe" military ideal.
What do you think? Are you sad Fox cancelled Enlisted? Follow me on Twitter for more scoop on shows getting cancelled or getting renewed.
Comments
comments