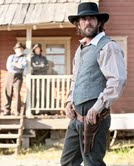 Western for all the family to watch together. That´s what I need this winter, don´t you? Well, Hallmark Movie Channel is bringing exactly that. Luke Perry's movie series GOODNIGHT FOR JUSTICE returns to Hallmark Movie Channel, Saturday, January 28 @ 8p/7c with the second installment, "Goodnight for Justice: The Measure of a Man."
Perry's original GOODNIGHT FOR JUSTICE [OAD 1/2011] gave Hallmark Movie Channel its highest rated night in the network's history and is aiming to bring in equally impressive numbers with the new World Premiere next month.
"Westerns brought television to the threshold of its Golden Age," recalls Perry, who has an overall deal with Hallmark Movie Channel to produce, direct and star in the adventures of fictional John Goodnight, a former fun-loving lawyer turned Circuit Judge in a territory where lawlessness threatens the peace on a regular basis.
"Today's life is fraught with global perils or financial ones.  So stories about simple people who exhibit true heroism or make great personal sacrifices for a better way of life are once again proving to be very popular entertainment vehicles," Perry concluded.
Will you watch Luke Perry´s Goodnight for Justice: The Measure of a Man on Hallmark Movie Channel? Let me know in the comments section.
Also, remember to follow me on Twitter for more Goodnight for Justice scoop.
Comments
comments