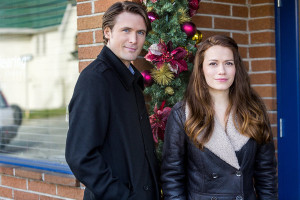 With her life falling apart at Christmastime, a struggling single mom finds a magical family heirloom that leads her to love and good fortune in "The Christmas Secret," a Hallmark Movies & Mysteries Original World Premiere Holiday 2014. Bethany Joy Lenz ("One Tree Hill") and John Reardon ("Arctic Air") star with Susan Hogan ("Life Unexpected"), Michael Hogan ("Teen Wolf"), Nicola Cavendish ("The L Word"), Jaeda Lily Miller ("The Christmas Secret") and William Ainscough ("Seed") in this heartwarming dramedy. "The Christmas Secret" is part of Hallmark Movies & Mysteries' MOST WONDERFUL MOVIES OF CHRISTMAS, featuring traditional and classic Christmas films suitable for family audiences.
With Christmas approaching in the charming, small town of Wilsonville, struggling waitress Christine Eisley's (Lenz) life is coming undone. She's been fired from her job, evicted from her home and her ex-husband is taking her to court for custody of their children (Miller and Ainscough). To make matters worse, she's misplaced a very special family heirloom, a star-shaped locket handed down from her father, who disappeared from her life when she was a young girl. But things seem to be looking a little brighter for Christine when she lands a new job working with a gregarious bakery owner (Cavendish) and a holiday romance begins to blossom with Jason (Reardon), the handsome grandson of a sweet couple (Hogan and Hogan) who own a popular local store. As she uncovers a long-standing family secret, Christine's luck might be starting to turn, bringing her good fortune and true love just in time for Christmas.
Will you watch The Christmas Secret this Holiday season? Follow me on Twitter for more scoop.
Comments
comments