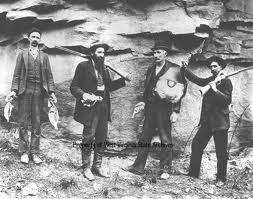 HISTORY's bringing a highly anticipated scripted miniseries, HATFIELDS & MCCOYS, premiering this Memorial Day.  Starring Academy Award winner Kevin Costner and Golden Globe nominated actor Bill Paxton, the miniseries chronicles the bloody hostilities between two clans that escalated to the point of near war between two states.
In addition to Costner and Paxton, HATFIELDS & MCCOYS has a stellar cast, including: Tom Berenger, Powers Boothe, Mare Winningham, Matt Barr, Boyd Holbrook, Jena Malone, Sarah Parish and Lindsay Pulsipher.
Watch Hatfields & McCoys preview trailer video
This miniseries tells a very interesting story about two families feuding: Asa Harmon McCoy was murdered on January 7, 1865. Jim Vance, the uncle of Devil Anse Hatfield, despised Harmon because he had joined the Union Army during the American Civil War. Harmon was discharged from the Army early because of a broken leg. He returned home to a warning from Vance that Harmon could expect a visit from Devil Anse's Wildcats. Frightened by gunshots as he drew water from his well, Harmon hid in a nearby cave, supplied with food and necessities each day by his slave, Pete; but the Wildcats followed Pete's tracks in the snow, discovered Harmon and shot him fatally.
At first, Devil Anse Hatfield was the prime suspect. Later, after finding the Wildcats' leader had been confined to his bed, the guilt turned squarely on Vance; but in an area where Harmon's military service was an act of disloyalty, even Harmon's own family believed he had brought his murder on himself. Eventually the case withered and no suspect was brought to trial.
The second recorded instance of violence in the feud occurred thirteen years later, in 1878, after a dispute about the ownership of a hog: Floyd Hatfield had it and Randolph McCoy said it was his. The pig was only in the fight because some of the Hatfields believed that since the pig was on their land, it was theirs. Some of the McCoys objected, saying the "notches" (markings) on the pig's ears were McCoy marks, not Hatfield marks. The matter was taken to the local Justice of the Peace, and the McCoys lost because of the testimony of Bill Staton, a relative of both families. Presiding over the case was Anderson "Preacher Anse" Hatfield. In June 1880, Staton was killed by two McCoy brothers, Sam and Paris, who were later acquitted on the grounds of self-defense.
The feud escalated after Roseanna McCoy began a relationship (courtship) with Johnson "Johnse" Hatfield (Devil Anse's son), leaving her family to live with the Hatfields in West Virginia. Roseanna eventually returned to the McCoys, but when the couple tried to resume their relationship, Johnse Hatfield was arrested by the McCoys on outstanding Kentucky bootlegging warrants. He was freed from McCoy custody only when Roseanna made a desperate midnight ride to alert Devil Anse Hatfield, who organized a rescue party. The Hatfield party surrounded the McCoys and took Johnse back to West Virginia before he could be transported to the county seat, Pikeville, Kentucky, for justice the next day.
Despite what was seen as a betrayal of her family on his behalf, Johnse thereafter abandoned the pregnant Roseanna, marrying instead her cousin, Nancy McCoy, in 1881.
The escalation continued in 1882 when Ellison Hatfield, brother of Devil Anse Hatfield, was killed by three of Roseanna McCoy's young brothers: Tolbert, Pharmer, and Bud. Ellison was stabbed 26 times and finished off with a shot during an election day fight that took place in Kentucky. The McCoy brothers were initially arrested by Hatfield constables and were being taken to Pikeville for trial. Devil Anse Hatfield organized a large group of followers and cut off the constables with McCoy prisoners in tow before they reached Pikeville. The brothers were taken by force to West Virginia to await the fate of mortally wounded Ellison Hatfield. When Ellison finally died from his injuries, the McCoy brothers were themselves murdered in turn as the vendetta escalated. They were tied to pawpaw bushes, where each was shot numerous times. Their bodies were described as "bullet-riddled".
The feud reached its peak during the 1888 New Years Night Massacre. Several of the Hatfield gang surrounded the McCoy cabin and opened fire on the sleeping family. The cabin was set on fire in an effort to drive Randolph McCoy into the open. He escaped by making a break but two of his children were murdered and his wife was beaten and left for dead. The remaining McCoy family moved to Pikeville to escape the West Virginia raiding parties.
Between 1880 and 1891, the feud claimed more than a dozen members of the two families, becoming headline news around the country, and compelling the governors of both Kentucky and West Virginia to call up their state militias to restore order[citation needed] The Governor of West Virginia once even threatened to have his militia invade Kentucky. Kentucky Governor S.B. Buckner in response sent his Adjutant General to Pike County to investigate the situation. Besides nearly a dozen who died, at least 10 persons were wounded.
In 1888, Wall Hatfield and eight others were arrested by a posse led by Frank Phillips and brought to Kentucky to stand trial for the murder of Alifair McCoy, who was killed during the New Years Massacre. She had been shot after exiting the burning house. Because of issues of due process and illegal extradition, the United States Supreme Court became involved (Mahon v. Justice, 127 U.S. 700 (1888)). The Supreme Court ruled 7-2 in favor of Kentucky, holding that even if a fugitive is returned from the asylum state illegally instead of through lawful extradition procedure, no federal law prevents trying him. Eventually the men were tried in Kentucky and all were found guilty. Seven received life imprisonment, while the eighth, Ellison "Cottontop" Mounts, was executed by hanging. Thousands attended the hanging in Pikeville, Kentucky.
Fighting between the families eased following the hanging of Mounts. Trials continued for years; the trial of Johnse Hatfield was the last of the feud trials in 1901.
Jack Palance did a previous film version of this feud in the eighties.
Will you watch Hatfields & McCoys on HISTORY? Let me know. Also, follow me on Twitter for more HISTORY scoop.
Comments
comments