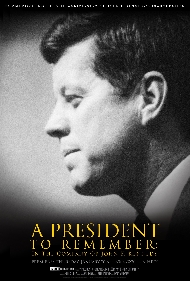 HBO Documentaries is presenting another great piece of documentary. In this case A President to Remember, In the company of John Kennedy. Fifty years ago this month, John F. Kennedy was sworn in as the 35th President of the United States. To commemorate his inauguration, HBO is presenting two personal profiles of one of America's most admired presidents.
Directed by pioneering verité filmmaker Robert Drew and narrated by Alec Baldwin, A President to Remember, In the company of John Kennedy is an intimate portrait of JFK, the candidate, the President and the man.
After we learned that The Kenedys was a no go on History, HBO picks up the character but uses a very different approach in this documentary.
The documentary debuts Thursday, Jan. 20 (9:30-11:00 p.m. ET/PT), 50 years to the day after JFK's inauguration, exclusively on HBO.
Other HBO playdates:  Jan. 23 (5:30 p.m.), 26 (2:30 p.m.), and 29 (10:15 a.m. ET/11:00 a.m. PT), and Feb. 2 (4:00 p.m., midnight), 10 (8:00 a.m.) and 21 (2:30 p.m.)
HBO2 playdates:  Jan. 21 (9:30 a.m.) and Feb. 2 (8:00 p.m.), 6 (11:30 a.m.), 11 (4:30 p.m.) and 15 (1:30 p.m.)
A President to Remember, In the company of John Kennedy combines footage from four previously released Drew films – "Primary" (the founding film of American cinema verité in 1960), "Adventures on the New Frontier," "Crisis:  Behind a Presidential Commitment" and "Faces of November" – to present a sweeping picture of the brilliant life of an American president.  Each of the early-1960s documentaries is a candid portrait of Kennedy, his aides and his wife Jackie, as captured by then-revolutionary hand-held camera recorder rigs operated by Drew and soon-to-be-legendary associates such as Albert Maysles, D.A. Pennebaker, Richard Leacock, Hope Ryden and James Lipscomb.  Representing distinct and critical moments in his candidacy and presidency, Drew's films are blended with other Kennedy-era video for an up-close look at how one man struggled to bring wisdom, honor and integrity to the nation's top post.
The film focuses on four distinct phases of President Kennedy's life, from a young Senator's campaign for the Presidency to his untimely death.  He is seen glad-handing union workers as a fledgling candidate; beaming as his wife gives a stump speech; strategizing with staffers about election tactics in hotel rooms; settling into his new office after inauguration; dealing with the Soviet Union and its blustering leader, Nikita Khrushchev, during the Cuban Missile Crisis; and working with brother Bobby, his Attorney General, during a showdown with Gov. George Wallace over the integration of the University of Alabama.  At the close of the film, the shock and deeply felt sorrow following Kennedy's assassination is captured in the faces of both his family and everyday citizens.
A President to Remember, In the company of John Kennedy is directed by Robert Drew; producer, Anne Drew; narrator, Alec Baldwin; editor, Tracy Moorman.
One day before the debut of A President to Remember, director Peter Kunhardt's Emmy®-winning 1988 film JFK:  In His Own Words will receive a special encore on HBO2.  Presented Wednesday, Jan. 19 (8:00-9:00 p.m.), this intimate film reveals the private man behind the public hero, drawing on interviews, speeches, color and black-and-white home movies and photographs, and archival newsreel and television footage, much of which was seen and heard for the first time in the documentary.
Other HBO2 playdate for JFK:  In His Own Words:  Jan. 17 (12:30 p.m.)
Trailer Video from HBO Documentary: A President to Remember, In the company of John Kennedy
So, will you watch A President to Remember, In the company of John Kennedy on HBO January 20th? Let me know in the comments section.
Comments
comments