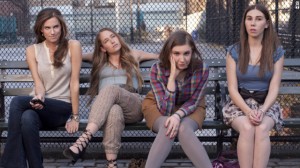 Sometimes we add unofficial announcements that are just as good as the real thing to the  renewed shows of 2013 and cancelled shows of 2013 lists, and this one is exactly that, as HBO renews Girls for season three, according to show creator and star Lena Dunham, as she told Alec Baldwin on his podcast. Lena´s exact words were: "I´m so excited… We're starting season three at the end of March". You know that´s just as good as a release from the premium cabler. After all, show gets praised a lot, has won some awards this year, and also, it´s HBO, a network that first and foremost, takes good care of good shows.
Created by and starring Lena Dunham ("Tiny Furniture"), the show is a comic look at the assorted humiliations and rare triumphs of a group of girls in their early 20s. Dunham wrote and directed the pilot of the series, which she executive produces along with Judd Apatow and Jenni Konner.  The cast also includes Jemima Kirke, Allison Williams, Zosia Mamet, Adam Driver and Alex Karpovsky.  Shot in New York, the ten-episode second season premiered in January 2013, and third season is already going to start production in March.
What do you think? Are you happy Girls got renewed? Will you wait for HBO to announce Girls renewal to celebrate? You can also follow me on Twitter for more scoop on shows getting renewed like Girls has.
Comments
comments