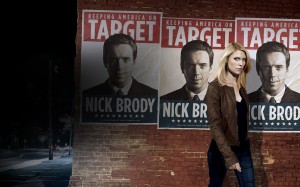 One of the most acclaimed shows in recent years, both by audiences and critics is coming back for a new season, as Homeland premieres season three and starts its twelve-episodes run, Sunday September 29th at 9PM on Showtime.
HOMELAND Season 3 opens during the aftermath of the horrific terror attack that decimated the U.S. intelligence apparatus, and prompted a global manhunt for the world's most wanted terrorist – Nick Brody (Damian Lewis). As Carrie (Claire Danes) and Saul (Mandy Patinkin) begin to pick up the pieces of their shattered professional and personal lives, they are swept up in the political and media firestorm surrounding the terror attack and the subsequent search for Brody's whereabouts. The series also stars Morena Baccarin, Rupert Friend, Jackson Pace and Morgan Saylor. One of Showtime's top-two rated series (along with DEXTER), HOMELAND tied for the most wins of any program this year at the Emmy Awards, honored with six wins including Outstanding Drama Series, Outstanding Writing for a Drama Series, and Outstanding Lead Actress and Actor in a Drama Series. Additionally, HOMELAND has been awarded Golden Globe Awards, SAG, Peabody, Television Critics Association, AFI and Critics' Choice Awards.
Will you watch Homeland season three on Showtime? Follow me on Twitter for more scoop.
Comments
comments