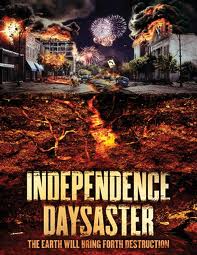 We´ve already seen what June will be like on Syfy with the premiere of several shows, as well as some bonafide hits returning for new seasons or new episodes, and now it´s time to see what is under Syfy´s sleeve for the month of July in which it will premiere two new series, Notorious Hauntings and Joe Rogan Questions Everything as well as the premiere of new original film Independence Day-Saster.
But let´s talk a bit more about each and its plots and premises so you can better decide about watching them, or adding them to your DVR list or whatever is it that you kids do these days with your boobtoobs.
INDEPENDENCE DAY-SASTER (NEW ORIGINAL MOVIE)
Premieres Thursday, July 4 at 9PM — An alien invasion cripples America's conventional defense forces. When the President's helicopter is shot down, his brother (a small-town hero) and a renegade scientist must find the aliens' weakness and defeat them. The movie stars Ryan Merriman (Final Destination 3), Tom Everett Scott (Southland), Emily Holmes (Snakes on a Plane) and Andrea Brooks (Supernatural).
JOE ROGAN QUESTIONS EVERYTHING (SERIES PREMIERE)
Premieres Tuesday, July 16 at 9PM – Life-long unexplained paranormal mystery-addict Joe Rogan ventures into unknown worlds and untapped territories to search for answers to life's most startling theories. Having explored these questions for years on his podcast, Joe now takes his journey to the next level, traveling the country and knocking on any door necessary to find the truth. In his own unique and inquisitive style, Joe will stop at nothing to quench his curiosity for the unknown. Production company: A. Smith & Co. Executive producers: Arthur Smith, Joe Rogan, Kent Weed, Frank Sinton, Michael Braverman, Tod Mesirow, Barry Bloom, Jeff Sussman and Chandra Keyes.
NOTORIOUS HAUNTINGS (SERIES PREMIERE)
Premieres Tuesday, July 16 at 10PM — Produced by Pilgrim Studios – the company behind Syfy's Ghost Hunters, the most successful paranormal franchise on cable – Notorious Hauntings features a globetrotting group of researchers who investigate reports of extreme and dangerous supernatural activity around the world. In each of the six self-contained episodes, viewers will follow the investigators as they research the otherworldly activity at each site and explore the gruesome history of the infamous and heinous individuals. The team will stop at nothing as they dig deep into their crimes and victims to determine if they are the cause of the present-day haunting. Through the gathering of evidence and the uncovering of little-known history, Notorious Hauntings will explore some of the world's most enduring mysteries, including the case of Jack the Ripper in London, Dracula-inspiration Vlad the Impaler in Romania and the bloodthirsty Borgias in Italy. Notorious Hauntings is produced by Pilgrim Studios with Craig Piligian and Mike Nichols serving as executive producers.
What do you think? Will you watch Syfy on July 2013? Follow me on Twitter for more scoop on these shows.
Comments
comments