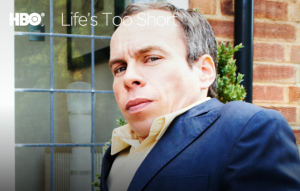 It started as a series and now it´s a limited TV Event, but anyways, LIFE'S TOO SHORT, a comedy from Ricky Gervais, returns FRIDAY, JULY 5th (10 p.m. ET/PT) for a special series finale that will neatly tie-up all the loose ends that have had fans burning for answers, exclusively on HBO.
Warwick Davis reprises his role as a fictionalized version of himself in the follow-up to the HBO comedy series. After a long cold spell, things are looking up for the self-aggrandizing Davis, who once appeared in some of Hollywood's biggest hits (the "Harry Potter" and "Star Wars" films). He's living with his new girlfriend, Amy, and is elated to learn from fellow "Willow" star Val Kilmer that a sequel to that 1988 fantasy may be in the works – if Davis can help raise funds to finance the film. Is the prospect too good to be true?
In addition to Gervais and Merchant, other returning actors on LIFE'S TOO SHORT SPECIAL include Jo Enright as Davis' ex-wife, Sue; Rosamund Hanson as his dim-witted assistant, Cheryl; Steve Brody as his incompetent accountant; Colin Hoult as his spiritual counselor, Bryan Medici; Kiruna Stamell as Amy; and "EastEnders" actor Shaun Williamson as himself.
Watch Life´s Too Short Finale Trailer
Will you watch it? Follow me on Twitter for more scoop.
Comments
comments