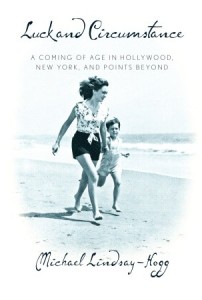 I always try to get you folks some interesting giveaways and this time, it´s book time!
A 2-copy giveaway for all the US and Canadian readers for Michael Lindsay-Hogg's Luck and Circumstance: A Coming of Age in Hollywood, New York, and Points Beyond.
Lindsay-Hogg is the son of Hollywood actress Geraldine Fitzgerald (Dark Victory; Wuthering Heights). He went on to earn a reputation as a director in theater, film and television. His credits include The Normal Heart, The Beatle's Let it Be, Brideshead Revisited and The Rolling Stones Rock and Roll Circus, among many others.
Lindsay-Hogg's memoir chronicles his life in Hollywood, New York and abroad and his encounters with stars of the stage and screen. And then there is the mystery which runs throughout the book: What was the real nature of the relationship between his mother and the great director, Orson Welles? "The thing is, some people think Orson and I had an affair and that he's your father. It's not true but that's what some people have gotten into their head," his mother said to Michael when he was 16.
The book is getting great reviews, such as the following:
"Beautifully written . . .  a mysterious mix of memory and insight . . . the book's charm is Lindsay-Hogg's ability to convey the texture of his unusual life."—Deirdre Donahue, USA TODAY
"Irresistible….[Michael Lindsay-Hogg's] incisive writing and ability to deftly transcribe every dramatic moment that shaped his life makes Luck and Circumstance stand out…[a] marvelous coming-of-age story." —Lizzie Crocker, The Daily Beast
"[Luck and Circumstance] is a candid, chatty and enlivened by wonderfully detailed mini-portraits of the famous supporting players in his life." —David Wiegand, San Francisco Chronicle
"Sad, funny and intelligent . . . Show-business memoirs are often long on gossip and short on introspection. This one has plenty of entertaining anecdotes about the famous characters who pass through Lindsay-Hogg's life . . . But Lindsay-Hogg is at his most compelling when trying to make sense of his ambiguous feelings about his parents and his obsession with Welles." —Moira Hodgson, The Wall Street Journal
"Generous, funny, and often poignant. . ." —Megan O'Grady, Vogue.com
"Lindsay-Hogg makes every effort to parse the practically Shakespearean drama that shaped his life. Epic love, mistaken identities, letters revealing secrets—they're all here."  —Alex Witchel, The New York Times Book Review
"An unusual story of a life lived among a galaxy of stars, told with enough insight and intelligence that even those who dismiss celebrity memoirs should enjoy this jaunt through the glitz." —Kirkus
You can check out the book here.
How to enter the Giveaway for Luck and Circumstance?
Easy: Leave a comment here stating why you want to win this book.
Make sure to leave a valid e-mail address in the form.
You can also follow me on Twitter to learn about new contests and giveaways.
Comments
comments