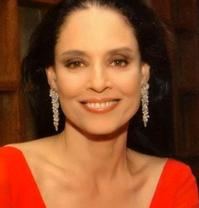 Sonia Braga ("Angel Eyes," "Páginas Da Vida") and Tony Plana ("Desperate Housewives," "Ugly Betty") lead a long list of dynamic performers who begin production today on "Meddling Mom," a two-hour Hallmark Channel Original Movie slated for World Premiere on Mother's Day 2013.  Joining Braga and Plana are Mercedes Renard ("NCIS"), Ana Ayora ("Marley & Me," "Phoenix Falling"), Saundra Santiago ("One Life to Live," "The Sopranos"), Rose Abdoo ("2 Broke Girls," "Gilmore Girls"), George Contreras ("The O.C."), Rafael Amaya ("Doctor Mateo," "Ugly Betty"), Rob Mayes ("Jane By Design") and John Nielsen ("Transformers: Revenge of the Fallen").
Take Carmen Vega downtown and book her!  Carmen is guilty as charged of slipping into daughter Yolanda's and son-in-law Rico's home to leave behind "How to" and "When to" books on baby-making, of manipulating youngest daughter Ally into a doomed relationship with best friend Marisol's son Pablo ("the lawyer"), and of getting Ally's real boyfriend pulled off an important account.  She is generally guilty of getting into every other family member's social life, except her own.  Now Carmen Vega, notorious mother of good intentions, but with equally hideous results, is about to get a crash course in butting out!
Just as her family believes Carmen's making progress, she finds out that she is going to be a grandmother – finally!  Yolanda and Ally can only shake their heads when they hear Carmen has already purchased furniture for the nursery and picked out names.  Will Carmen ever learn her lesson?  Cuando las ranas críen pelo!
"Meddling Mom" was written by Nina Weinman from a story by Paul Longo.  Frank Konigsberg, Patricia Clifford and Iris Dugow are Executive Producers.  Kyle Clark and Lina Wong are Co-Executive Producers.  Eileen Fields produces.  Patricia Cardosa directs ("Real Women Have Curves").
What do you think? Will you watch Meddling Mom on Hallmark? Let me know in the comments section.
Also, remember to follow me on Twitter for more Hallmark scoop.
Comments
comments