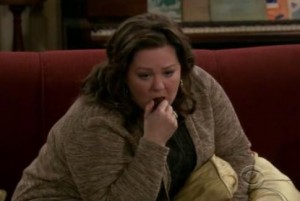 A new episode of the very charming Billy Gardell and Melissa McCarthy led show Mike & Molly aired tonight, this one calle First Valentine´s Day.
Mike's big plans for his first Valentine's Day with Molly are thrown into jeopardy after he accidentally runs into Molly's ex-boyfriend.
Best Quotes from Mike & Molly S01E16 – First Valentine´s Day
Mike: Do you have a date?
Carl: Even better than a date. I have a strategy
Victoria: You know what they say: "Candy is dandy, but yay is weed"
Joyce: Looks little like a ransom note
Molly: The upside is we all have dates on Valentine´s Day
Kyle: Consider it my Valentine´s present to you and Molly
Mike: This frosting just melts in your mouth. That son of a bitch!
Carl: Not to mention he is ruggedly handsome and in quite good shape
Mike: Not helping!
Carl: Man, you don´t wanna do this now. You are angry and you have cake in your nose
Mike: Yeah, I´m alright. Nothing broken but my heart
Carl: And your sidewalk
What did you think of Mike and Molly First Valentine´s Day? Let me know in the comments section.
Also, remember to follow me on Twitter for more scoop and spoilers on Mike and Molly.
Comments
comments