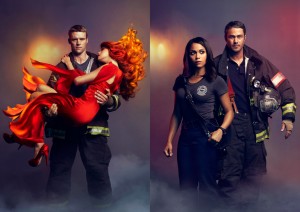 Dick Wolf parabens! NBC has renewed Chicago Fire for season two in what was an expected piece of news, even though it was expected to be announced for later in the season.
"Chicago Fire," from Emmy Award-winning executive producer Dick Wolf and creators Derek Haas and Michael Brandt, goes inside a Windy City firehouse and the lives of those who engage in one of our nation's noblest professions.
In addition to Wolf, Haas and Brandt, executive producers also include Matt Olmstead, Joe Chappelle, Danielle Gelber and Peter Jankowski. The series is produced by Universal Television and Wolf Films.
"Chicago Fire" has topped its premiere audience of 6.6 million persons a total of eight times this season, and the only other new drama on the broadcast networks to have done it even once this season is NBC's "Hannibal." "Chicago Fire" originals have improved the time period versus year-ago results by 24 percent ("live plus same day").
The renewal order for Chicago Fire is for 22 episodes set to air for the 2013 – 2014 season.
What do you think about this? Are you happy Chicago Fire got renewed? Follow me on Twitter for more scoop on shows getting renewed like Chicago Fire, or check the complete and updatable lists of renewed shows of 2013 and cancelled shows of 2013.
Comments
comments