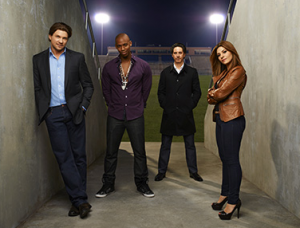 Summer Wednesdays are going to be awesome again, as USA is scheduling not only the premiere of season five or Royal Pains at 9/8C, but also, at 10/9 C, it will premiere season three of Necessary Roughness.
Season three picks up six months after the New York Hawks playoff run at the end of season two. Big changes at the team force Dani (Golden Globe®-nominee Callie Thorne), TK (Mehcad Brooks) and Matt (Marc Blucas) to reconsider their futures with the franchise. After Dani's success with TK and the New York Hawks, a powerful sports and entertainment management agency run by the seductive Connor McClane (John Stamos) makes her a promising offer to join his firm. The new job could to launch Dani to the next professional level – but at what cost? TK struggles under the reign of a new coach. After a long absence, Nico (Scott Cohen) resurfaces in a surprising place, complicating life for Dani. This season will also welcome John Stamos, David Anders and Karissa Lee Staples to the cast. Remember, Necessary Roughness third season premieres June 12, and airs Wednesdays at 10/9c.
What do you think? Will you watch Necessary Roughness season three on USA? Follow me on Twitter for more scoop on the show.
Comments
comments