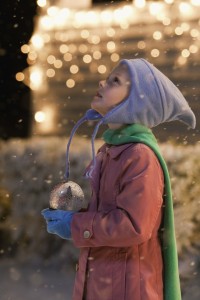 Hallmark Channel is still bringing more and more family oriented entertainment about Holidays and Christmas. In this case, November Christmas From the Hallmark Hall of Fame Collection premieres Saturday, November 12 (6 p.m. ET/PT, 5C)
This Hallmark Hall of Fame story of one family's drive to bring an ailing daughter hope and love during a traumatic time is simply one of the most heartwarming holiday tales ever.  John Corbett of "Northern Exposure" and "Sex and the City" fame stars as Tom Marks, a concerned father who along with his wife Beth (Sarah Paulson) is struggling to cope with the illness of his little girl, Vanessa (Emily Alyn Lind).  Tom is a farmer who has pretty much kept to himself in his small town since the death of a young son years before.  And now with his daughter sick, he's suddenly struck on an ambitious plan to help everyone cope with Vanessa's illness.  But he needs help or it can't happen.  And that means mending some long-broken bridges with neighbors (played by pros Sam Elliott and Karen Allen).  The idea is to move up the holidays and convince Vanessa that it's real.  And so the town plots a bang-up Halloween in August and a magical Christmas in November, so Vanessa will have a chance to experience both no matter what happens due to her physical condition.  Thus, "November Christmas" becomes an allegory about a conspiracy of goodness, one that doesn't involve money but emotional support.  And it tells us how a community can rally around an issue when it literally is a matter of life and death.  Bring along plenty of Kleenex for this one, folks.
Will you watch November Christmas with John Corbett on Hallmark Channel?
Remember to follow me on Twitter for more Hallmark Channel scoop.
Comments
comments