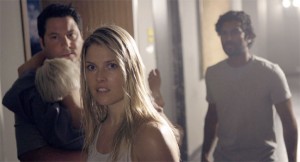 Heroes is coming back next Monday…
We already told some major spoilers of Heroes, for instance:
And here… the spoilers and plot summary for next episode of Heroes
HRG (Jack Coleman) convinces Emile Danko (guest star Zeljko Ivanek), a.k.a. The Hunter, to release Tracy (Ali Larter) from Building 26, in hopes that she will lead them to Rebel. As Angela (Cristine Rose) evades capture, she turns to an old friend (guest star Swoosie Kurtz) for help. In Los Angeles, Hiro (Masi Oka) and Ando (James Kyson Lee) continue on their latest mission from Rebel to protect the newest hero. Greg Grunberg, Sendhil Ramamurthy and Milo Ventimiglia also star. Brea Grant and David H. Lawrence XVII guest star.
Show Cast: Hayden Panettiere, Greg Grunberg, Masi Oka, Adrian Pasdar, Jack Coleman, James Kyson Lee, Zachary Quinto, Cristine Rose, Ali Larter, Dania Ramirez, Milo Ventimiglia, Sendhil Ramamurthy.
Comments
comments